Shaughnessy Part I
8/22/05
Shaughnessy Part I: Beckman's Shop

After the Monterey Weekend, most of us are pretty worn out from all the car activities, but Yale and I found ourselves southbound headed for Southern California. We left Monterey at about 8 am to catch Tom Shaughnessy 90 minutes ahead of us in his truck pulling a trailer.
If the name needs introduction, Tom Shaughnessy has been in the business of Ferraris for over 20 years, and has quite a reputation. To some, he is a collector of Ferraris and Ferrari parts, and to others, he is a dismantler of Ferraris and Ferrari parts. I've stayed pretty neutral in the business that Tom does, but have always wanted to see his collection of parts. As much as he has split up some cars for their motors, and sold off other valuable parts, he has one of the largest stashes of parts that I know of in the U.S., so I could not pass up an offer for a tour.
As Tom traveled at 55 mph south on Interstate 5, I hustled along at 85 mph trying to catch him. From my high school algebra, I figured approximately where we could meet along the highway. Shaughnessy offered to take Yale in his truck for the rest of the way to "discuss" his business practices.

We caught Tom after the Tehachapi Mountains outside of Lebec, California to find this F2 2.0 liter 4 valve Dino engine on display in the back of his pickup like spoils of war from the Monterey weekend. Yale switched cars, and I wished him luck.
Yale has always been vocal about how he disagrees with Tom splitting up cars, and can be heard voicing his views on some of the Ferrari message boards. With Yale from New York City, and Tom, a former New Yorker, I could only imagine the heated discussion they had in person as we headed south!

We arrived at our first stop, Beckman Metalworks in Costa Mesa without Yale being tossed out of Shaughnessy's truck, although from the look on Yale's face, he was pretty worn out! Back in LA I remembered my chance meeting with Steve Beckman at Laguna Seca, and tried to play our joke on Shaughnessy, telling him I knew all about Beckman's shop, but Tom wasn't phased. I guess I will just have to try harder next time!

Inside the non-descript store front on an industrial street, we were greeted by Steve Beckman, and Tom Shaughnessy's dashboard that Beckman created from scratch. This beautiful piece of aluminum replaces the original one that melted in a fire!

Not only was it neat to see this great piece of handiwork, but even better to talk to Steve about how he managed to form this intricate dash. Each shape had to be formed and welded together, but getting everything to line up and fit was another challenge.

In the shop, there were several Ferraris and Alfas in various states of restoration. Beckman can be seen facing the camera talking the Yale in the right side of the picture.

Steve has also built complete bodies for some of his clients. Here's a wire frame mock-up for a Ferrari so sheet metal can be fitted.

Beckman's shop is trying their best to save as much of this body as possible, and replace only what's necessary on this SWB.

At about a million bucks for one of these cars, I'd imagine the owner can afford to treat her right!

In the back of the shop on his chassis rig is Steve's pet project. He wants to build himself a roadster with some Corvette power. So far, he has a C-5 engine, a C-4 transmission, a C-4 rear suspension, and a C-5 front suspension. The shape of the car looks like a cross between a 50s Testarossa, and a Monza. With Steve's talent, I hope he finds time in his busy schedule to complete the car!
Speaking of talent, Steve told me a funny story. He met this woman one day, and was trying to explain to her what he did for a living. He told her that he worked on Ferraris, creating bodies from scratch, and described some of the skills of his trade. Soon, she began to understand, and said,
"You mean, you're like a Jessie James on that motorcycle show?"
With her ignorance, she meant that as a compliment, but to all those in the upper end of metal fabrication, many of these TV stars are pretty weak in metal forming talent. Steve just nodded, and smiled.

Here's a Ferrari gas tank they made at the shop exactly to original specifications. Even the lead rivets were used to hold and seal the tank together. Normally, a tank like this will get a synthetic bladder to avoid leaks, but much to Steve chagrin, the owner wanted this one to be as original as possible without a liner. Steve had to try his best to make sure every rivet sealed because there was very little room for error. Let's wish Beckman luck when this tank is filled for the first time!

Behind the metal shop was Steve's paint shop where Shaughnessy's Daytona is getting painted. It's supposed to be a prototype, SN 12301, the one on the Chinetti stand at the 1969 NY AutoShow. Beckman has two excellent painters handling all his paint. When I asked why he didn't do just the metal fabrication, and send the paint to another shop, he explained that although there are a lot of billable hours in metal work, paint can make or break your metal fabrication. Keeping all this together leaves little room for blame when things go wrong.

It was a great chance to see a Daytona stripped and inspect the nose structure. A common area for problems is the nose where cracks form in the body by the hood corners. There wasn't enough structural support for the nose on these cars, and stress cracks formed in original cars. This car has already been reinforced by a former body shop, but Beckman's shop will make sure the repairs are strong enough to last.

Outside, waiting for final buffing is this Superfast.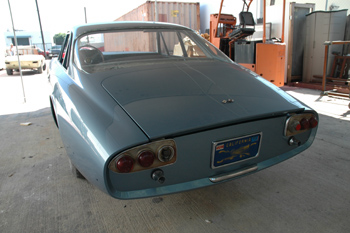 Needless to say the paint is gorgeous.

An interesting detail to this car is it came originally with a mohair interior. I hope I one day get to see this 500 Superfast completed with the original material on the seats!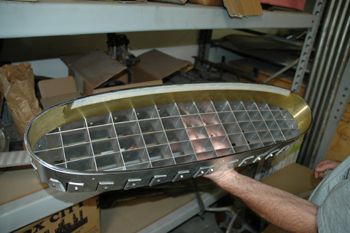 I couldn't help but to ask Steve all about grilles. We talked in length about how Ferrari probably constructed them, and how Steve recreates them. I'm sure the minute details would bore all of you to death, but Steve and I had mutual respect for the time we've spent studying grilles.

This grille shell was fabricated to fit original egg crating. Notice the bent tabs, and hand filed ends. The original grille pieces were definitely made with a lot less precision than the one I made for my car!
We left Steve Beckman's shop to continue our tour with Tom Shaughnessy. Although it was all in the same day, I'll write about it tomorrow!
Previous Restoration Day
Next Restoration Day
Home page