Shaughnessy Part II
8/23/05
Shaughnessy Part II: The First Parts Stash
Although it was all done on one day, the amount of stuff I saw is going to take a few posts to show it all!

The first stop was what has been nicknamed "The Water Tank Building." It must have housed a water tank at one time, but now stores half of Shaughnessy's collection of stuff. It's on the top of hill in a residential neighborhood, and the outside fits well in hiding what's inside.

Inside is a dark and secretive place. As my eyes adjusted to the poor lighting, I begin to see familiar Ferrari parts. In the foreground is a GTE and a hard top to a PF cabriolet.

What may first seem like random stacking of parts soon becomes revealed by Tom, areas of organization. This pile of parts belong to the Daytona that is at the paint shop we saw earlier.

As we were shown a dark set of stairs with the dim cast of a three foot fluorescent light, we found another level of parts hidden in the basement. Kerry Chesbro described this stack of Koni Shocks to me once, and actually found a set that fit his 330 after much stooping and searching.
Pete Sweeny, a Ferrari parts vendor and broker from Connecticut, joined us for this leg of the tour and was as speechless as the rest of us. Pete had been out for the Monterey weekend again, and decided to do the same and explore Shaughnessy's collection with us. The both of us had seen Jerry Curtis' collection when it was sold off, and this collection of parts is at least 10 times the size!

In the distance of the cellar, we could make out stacks and stacks of Ferrari wheels and tires. Everything from Borrani wire wheels to star mags from modern cars. Some of them still had scorch marks on the wheels from a fire that ended the life of a Ferrari as a driveable car.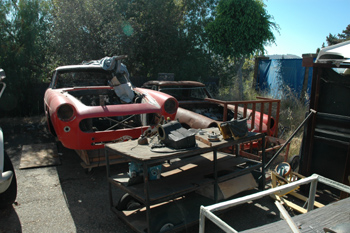 Outside in the backyard there were more stripped out GTEs and a PF coupe that was too far gone to restore.

There were other cars besides Ferraris, like this Maserati Ghibli Convertible.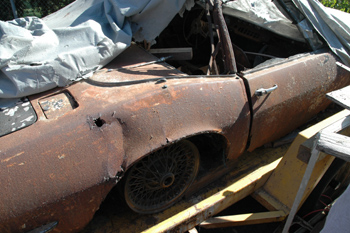 The fire stripped off the paint real well, but may have done more damage to the body to warrant a restoration!

Back inside, I took some better pictures of the GTE at the door. None of these cars are complete, as the first thing that gets sold off is probably the engine, but this one looked pretty nice. I respected Shaughnessy's request not to jot down serial numbers to these cars, but he did disclose this one as 2169, one of the 12 GTE Prototypes, and believed to be Enzo Ferraris personal car for a time. Tom says this one is complete, and does not plan to sell!

Other parts of the warehouse had stacks of tires, inner tubes, and fenders. The swatch of color in the foreground is a 275GTB nose.

As I'm getting better at identifying parts, I found a stash of transmissions. The left one was definitely a overdrive transmission to a GTE or Series I 330, the right one was probably a transaxle to a 275GTB or GTC. The box in the middle held overdrive parts. All of these parts would be invaluable if your car needed them!

Drive shafts and Brake boosters share shelf space.

Crates of brake calipers, and more are all over the place!
As we left the Water Tank Building, Tom drove us to the second stop on the tour, which was his second storage space. More on this on my next post!
Previous Restoration Day
Next Restoration Day
Home page