Helping Frank with a C/4
10/15/05
Helping Frank with a C/4

I got a call last week from Frank Segreto of East Coast Auto Trim. You may recall Frank was the one that helped me refurbish the interior to my 330 America, and recently suffered a heart attack. The good news is, he's feeling better, and is even able to do a little work. Although his doctor advised him to take it easy and consider retiring, Frank would go out of his mind if he stopped working! He does, however, plan to take it easy, and only work a little bit just to keep himself from going stir crazy. The call from Frank was to let me know he was working again, and whether I had some time to come down to his shop and lend him a hand.
For all the help Frank gave me from my interior, I was honored that he considered my skills helpful, so I made some time today to stop by and put in a day of work. Frank had an interior to a 365GTC/4 that he was in the middle of recovering when he fell ill, and wanted to get it done and back to the owner. Having recommended the client from my website, I was happy that progress was being made again on this interior!

As I was assembling the door panel, I had a chance to see how Ferrari (Pininfarina?) was putting together these interiors in the 70s compared to how my interior was done in the 60s. These interiors still required a lot of hand work, and I could see very little was done to mechanize and speed up the manufacturing of these door panels.

By mid afternoon, I had assembled one complete door panel, and put the finishing touches on the second one. Frank was busy putting the front seats back together, trying to figure out all the hardware.

As Frank was putting the front seats back together for the C/4, I decided to work on a project I put on hold as well. Another Ferrari owner asked me to help him make a Dino glovebox door from scratch. You may remember several months ago my taking notes and roughly forming this foam door. With a power sander, and room to work, I took advantage of Frank's air compressor and shaped and smoothed out this door.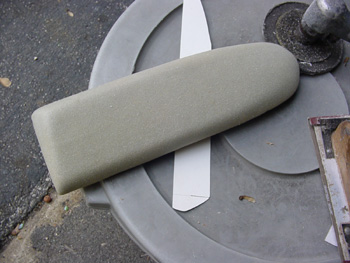 After roughly getting the door into shape, I hand sanded the rest of the foam smooth, and wrapped it with some thin foam. Now all it needs is some "mouse fur" material, and we'll be just about there!
Don'f forget! Next Sunday, October 23rd, is the TOMYANG.NET East Coast Party! Rumor has it that a couple of real nice Ferraris will be there, and I'm not even counting mine! All of you are invited, even if you don't own a Ferrari. Even though this site is centered around Ferraris, it should be obvious that I love all types of cars, so feel free to come down to share in the enthusiasm!
More information on the Party.
Previous Restoration Day
Next Restoration Day
Home page