The Inaugural Tomyang.net East Coast Party
10/23/05
The Inaugural Tomyang.net East Coast Party

I am happy to announce the inaugural Tomayng.net East Coast Party was a success, but first I should go back in time to the day before to tell how it all started…
I spent the whole day trying to get my 330 America ready for the trip to Michael's house the next day. A storm had developed over the Northeast, and we were getting a fair amount of rain. The weather forecast was saying it might clear up by the afternoon on Sunday for the party, but rain, or no rain, I knew my car had to be there. I was even planning on flat bedding the car there if something catastrophic happened!
With the rain falling outside, I took out my windshield wipers and installed them on the car. Since I had the windshield wiper motor repaired several months ago, I figured there shouldn't be any problems…WRONG! I indexed the motor position on the shafts, installed both wipers, and reached in to turn on the wipers. They reached the 12 o'clock position, and stopped! At first I thought I blew a fuse, but everything was fine, so I tried to move the wipers, and heard the motor straining to move the wiper arms. Something was dragging the motor down, and in my mind's schematic of the wiper system, I tried to figure out what was wrong. Knowing what a PITA (pain in the ass) it was going to be to get the motor out so I could lubricate what was dragging, I weighed my options. With less than 20 hours to the party, and the risk of tearing apart the wiper system, I decided to try removing one wiper blade to see if the drag of one blade made a difference. The driver's side blade moved a little better, but would still get stuck. I found when I sprayed some water on the glass, the wiper actually moved continuously, so I at least had an emergency wiper if the rain really came down! The next step I took, was I "Rain-Xed" the whole windshield. The wiper system will have to be inspected later, but at least I had it working enough to get to Michael's!
Sunday morning at 5 am, it was pouring outside at my house in Upstate NY, but by 6:30, it began tapering off, and when I pulled the Ferrari out of the garage, at 7 am, it stopped raining! The cool weather was perfect for the Ferrari motor, and what began as a 70 mph cruise ended up flying down I-95 at bursts to 90. The car performed beautifully!

I arrived at Michael and Dorie's house at about 9:30 am to find them already hard at work preparing for the party. Dorie was in her element preparing some fantastic appetizers while Michael and I went out to post signs so people could find the house.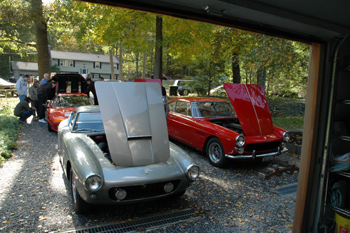 As the weather cleared up, and the sun broke through, more and more people arrived. My 330 America was quickly joined by a 330 GT 2+2, and Jim's 250 SWB. Not bad company for any Ferrari show, let alone a little get together for tomyang.net!

Michael also had parking in a field next to his house where we had this nice grouping of cars. I wondered if the Italian girls made nice with the frulein on the end!

Inside, we dined on Pulled Pork BBQ shipped in from the South courtesy of Parker Hall (Thanks Parker for the Pork, and the catalogs!), BBQ Beef Brisket and many other wonderful sides from Dori Greenspan's Kitchen. Recipes and techniques were happily shared by the Chef just as she shares in her many books, and columns in Bon Appetite! I happily ate and mingled, but as much as I wanted to hear about cooking, I also wanted to eavesdrop on some of the many other conversations going on simultaneously in the room. In the foreground of the this picture, you can see two gentleman talking about their cars. Both are long time owners of Ferraris, but one, a 250SWB, and the other, a 250GTO! I would have loved to sneaked in and listened!

Going outside, there were more discussions about Ferraris. Here we see Charlie showing what a flat 12 Ferrari motor looks like to guys like us who only know vintage V-12s! Although his Boxer, and Julie's 328 were the newest Ferrari at the party, they were still both over 20 years old!

It was great to have my car there so everyone could finally see it in the flesh. Here we see Kerry Chesbro talking to Ellen, and sporting the T-shirts Tom Shaughnessy sent to the 2+2 owners that came to the party. It says on the back "I own a Ferrari Parts car!" and the front shows a CA registration card filled in with comments like plate number: SWBBITS, and plenty of other tongue in cheek comments. Considering how much fun were were having with our Ferraris, nobody here would ever consider giving their car up for parts. Nice try Shaughnessy! But thanks for the shirts anyway!

Frank Segreto (left) came up with Francois Sicard and his wife Pam. Frank is deep in conversation with Mike Meehan. I'm sure they were discussing the seats to his 365GTC/4 that were delivered back to him at the party. Now it's a race against time for Mike to get his seats reinstalled, and drive his car one last time this year before the snow falls!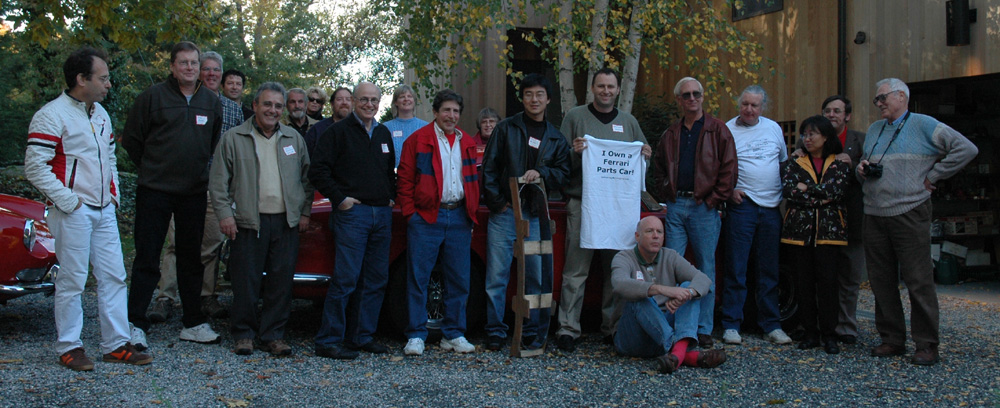 We even managed to get together for a group shot. Unfortunately, some people had left early, like Peter Sweeney, and Jim and Sandy McNeil. I'll try my best to name everyone from left to right.
Yale Evelev, Mike Sewell, Tom Wilson, Charlie, Julie, Francois Sicard, Pam Sicard, Mike Meehan, Michael Greenspan, Marie Meehan, Frank Segreto, Sue Turner, Tom Yang, Art Suckewer, Sam Hallowell, Jim Wickstead, Kerry Chesbro, Soyoo and Greg C., Warren Turner. I'm holding my polished grille shell to prove that I've been hard at work polishing. Pictures can be faked, but now I have witnesses!

Soon the sun began to set, so we had to plan our trips back home. Here we see Pam Sicard right at home directing a mid engined Ferrari back out of a driveway!

I don't know how to thank our hosts Michael, Dorie, and their son Josh for having us at their house for this wonderful event. Everything was perfect, and we owe it all to them for making it happen! Thank you so much!
Next year, when I get back from my trip, there will be another one, and it will be at my house!