The Powerhouse Museum
12/18/05
Powerhouse Museum

We reserved a day to explore the Powerhouse Museum, and we're sure glad we did. It's one of Sydney's largest museums, and if I had to find an equivalent in the United States, I would have to say it was combination of several. The Powerhouse Museum had areas that looked like the Smithsonian Air and Space Museum, and historical artifacts that reminded me of the American History Museum also in Washington D.C. There was also area dedicated to design, that are equivalent to exhibits in Museum of Modern Art, along with one found in the Metropolitan Museum of Art, both in New York.

Then there were the exhibits for the kids, which I have never seen better represented in any other museum. These interactive displays were fun, and entertaining for both our two year old and ourselves.

Part of the Museum is housed in the old powerhouse that supplied electricity to the trains, and the space is beautiful. It's high ceilings are perfect to display some of the australian aircraft.

There was an area dedicated to transportation, and I found a Bugatti along with some Australian Motorcycles on display.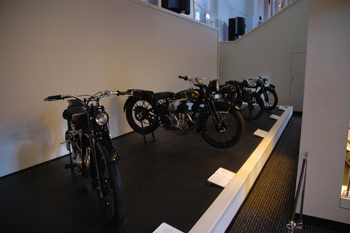 There was a 1948 Waratah where the company assembled bikes in Sydney from 1914-1951, and a 1939 Acme, also assembled in Sydney.
I learned a lot about Australian innovation, and was surprised to find some products I take for granted were developed here in Oz. I would highly recommend a visit to the Powerhouse Museum if you're ever in Sydney!
Previous Restoration Day
Next Restoration Day
Home page