Sydney Ferrari Shop
12/21/05
Sydney Ferrari Shop: Part I

Not far from Cronulla Beach in a suburb of Sydney was a small garage that specializes in Vintage Ferraris. I heard about David Levy from Terry Healy in Brisbane, and was given David's number to call while I was in Sydney. David was nice enough to see me for a visit, and gave me directions to his shop. I rang up another web friend who actually lives in the same area for a ride to the shop and some company for the morning visit. Adam is an Alfa guy, and was more than happy to take me to Mr. Levy's shop.

Tucked away in the back of an unmarked building was a stash of Ferraris in various states of repair. Greeting us at the door was a Long Nose single cam 275GTB that was being put back together after an engine rebuild.

Next to it was a brown 330 GTC that was also getting some engine work done. David Levy seems to specialize in GTCs as he's owned one for 35 years. In a modest fashion, he decribed himself as a fabricator and machinst, but I could see from his work he was much more.

In another part of the shop we found another GTC being built from the ground up.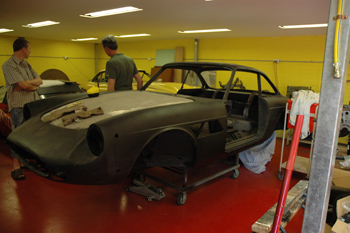 A third GTC was in Levy's shop getting a full restoration. When I considered how rare Vintage Ferraris are, and how few of them made it to the land down under, I began to realize how amazing it was to see three GTCs in the same shop with a fourth one not far away in David's home. Perhaps it was only a Vintage Ferrari Fan that would care, but I was impressed.
We spent a bit of time comparing notes on these cars, and David showed me many of the parts he has made for Vintage Ferraris. Some parts he made because he was disappointed with the quality of what was available, and some parts he made because there just wasn't a source anymore. He's made shutters and mounting plates for the twin distributors in a V-12 so they will fire a MSD ignition box, along with many necessary parts for RHD conversions. David also claims to have made better head gaskets and timming chain case gaskets, and uses them on all his rebuilds without any leaks. He also showed me sets of valve lash adjusters he designed and made for Vintage V-12 engines. These adjusters have the ball socket feet much like the ones found on Porsches, but are the correct diameter and thread pitch to screw into the Ferrari rocker arms. With some minor machine work on the rockers, these adjusters can make Ferrari valve trains much more reliable, last longer, and cut down on wear and tear. I've seen similar modifications on other cars, but these adjusters were manufactured specifically for the Ferrari V-12. If you thought about doing a similar mod, I would talk to David first. His e-mail is:
dlevy@people.net.au
to be continued…