Whale Beach
12/30/05
Whale Beach
We were invited to spend a day up at Whale Beach with some friends of ours. Since the weather in Sydney has been in the 90s F., we couldn't pass up the opportunity to be near the ocean breezes. Whale Beach is located in the Northern Suburbs of Sydney, almost at the end of a peninsula facing the Pacific Ocean. It's only a 40 minute drive from Sydney, and yet it seemed like a world apart from the urban landscape we left.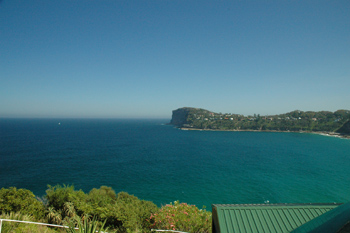 Both sides of Whale Beach are surrounded by high bluffs where Sydneysiders have built houses. Atypical of beach communities, what once were lightly constructed beach bungalows have now become sturdy year round residences. Our hosts have built their dream home at the top of this bluff with a 360 degree view of the ocean and a protected bay.

A winding drive concealed their house and gave them plenty of privacy for three generations of family to enjoy this vantage point.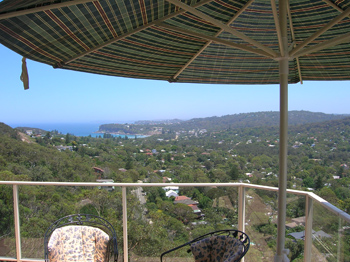 We enjoyed the bay side view under an umbrella as we escaped the heat with cool drinks and then had a wonderful lunch inside. As it cooled off in the afternoon, my daughter splashed around in the ocean and waded in a salt pool by the beach. It was a great way to spend a hot day in Sydney. We'd like to thank Justin, Helen, Phil, Wendy, Daniel, and Rachel for sharing some of their New Year's Weekend with us. Thanks guys!
Previous Restoration Day
Next Restoration Day
Home page