Jenolan Caves
1/10/06
Jenolan Caves
We spent a day at Jenolan Caves in the Blue Mountains. It's a popular tourist destination, but not crowded. I seem to forget that in a country with the population of 1/20th of the U.S. nothing gets as crowded as it does in the States!

There were several cave inspections to choose from varying in length and difficulty scheduled throughout the day. Even the easy tours revealed some beautiful sights deep within the mountain.

Although relatively stable, there was a shift deep within on cave to break this stalagmite off from it's stalactite.

In the cool darkness we were met with these wonderful formations like this curtain formed from the mineral deposits.

These formations were paper thin, and just as delicate as you can see the light shining through them.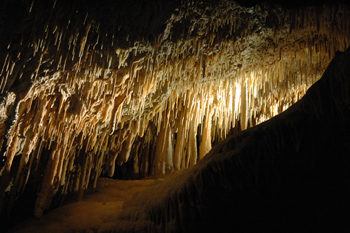 These caves were originally discovered by white Australians in the 1840s, and became a tourist destination by the late 19th century. Through the years paths and stairs have been built into the caves, but I could only imagine what it must have been like to visit these caves when they first opened for tourism. The guides showed us small holes and rock slides that visitors used to enter the caves, only to be shown the formations by candle light. It's changed quite a bit since those days!
Previous Restoration Day
Next Restoration Day
Home page