Lakes Entrance, Victoria
1/21/06
Lakes Entrance, Victoria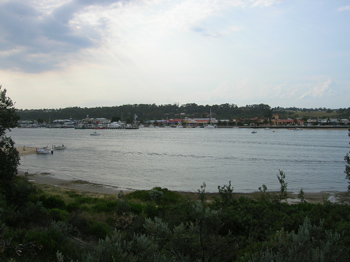 We crossed into Victoria as we left New South Wales on the lower right corner of Australia and stopped in Lakes Entrance. The town is what it was named, the entrance to a tidal lake that runs for miles along the southern coast of Victoria facing Bass Straight. Lakes Entrance was the first and only town that allowed passage to the lakes from the sea for many miles.

The thin stretch of beach that protected the lakes from the sea was called 90 mile beach, and was just that long. A foot bridge allowed the only access from Lakes Entrance, so all these miles of beaches remained pretty deserted. It was great seeing such a beautiful beach without many people.

We stayed at another Caravan park, since we like what we had in Eden. The one in Lakes was a little fancier with air conditioning, but some of the charm was gone. Being three hours from Melbourne, we really felt the tacky-tourist-beach-town feel of the area. If I had to do it again, I would have camped out of town, somewhere quiet. Besides, We've haad our fill of fish and chips!
Previous Restoration Day
Next Restoration Day
Home page