The Twelve Apostles, Kind of…
1/31/06
Twelve Apostles, Kind of…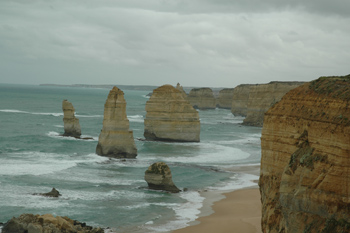 About 2.5 hours west of Apollo Bay, were the 12 Apostles, probably the crown jewel of the Great Ocean Drive. There actually aren't 12 rock formations anymore, but more like 8 left. I'm sure when this place was first discovered, there were 12, but through years of erosion some of them to fell. In fact, on July 3rd, 2005, the 9th Apostle fell into the surf in front of some morning sightseers.


Here are the before and after pictures shot by a surprised onlooker.

The grand spectacle of these formations is hard to reproduce photographs, so I shot a video to help understand the size of these things. I hope with the photos, it helps you experience a little of what we saw. (Click on the picture)

Down the road was access to the beach where we could see some of the formations up close. It was a little unnerving walking by the undercut cliffs knowing that these limestone rocks can sometimes fall from above.

Seeing these formations from the shore was even more awe inspiring. I stood looking for a while waiting to see if any of them would fall into the sea. You can really see the cracks forming and how precarious some of the pieces are sitting.

Having one of the Apostles fall into the ocean is not the only thing that has fallen in this area. A formation called London Bridge was a place where tourists could walk across the to the other side. Miraculously, when the rock bridge fell into the sea a few years ago, no one was mid span. Tourists caught on the other side, however, had to be rescued from the now remote outcrop.

I started to loose track of all the formations seen from all the lookouts, but each one was slightly different from the one before it. It also helped that the weather was clearing, so the light and color was changing every time we got out of the car.
Previous Restoration Day
Next Restoration Day
Home page