Uluru and Kata Tjuta
2/9/06
Uluru and Kata Tjuta

I mysteriously woke at 4 am. The hour time difference from Adelaide meant that I was two hours early for a sunrise viewing of Uluru. Maybe the rock was beckoning me to come, but whatever the case, I was up. I left my wife and baby sleeping only to find hundreds of other sleepless individuals looking to see what the rock would do at first light. I felt like we in the movie "Close Encounters of the Third Kind" when people were mysteriously drawn to Devil's Tower in the U.S.
Unfortunately, the sunrise was not that spectacular, but at least I was up early enough to get some decent shots of Uluru before the Sun got too bright and harsh.

Dark streaks form on the sandstone from rain water.

In some areas you can really see how years of erosion has formed the shape of this rock.

One area has a thin piece of rock that is separating from the main structure. It looks so precarious, but is very massive and probably secure.

On the horizon about 40 Kilometers away is another rock formation called Kata Tjuta, or The Olgas.

Each rock formation may not be as large as Uluru, but the highest one is 150 meters higher than Uluru at 500 meters.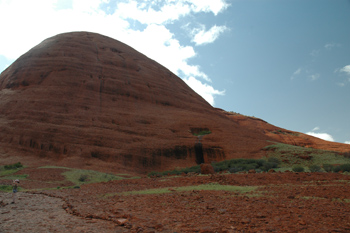 From afar it looks like it's made from the same stuff that formed Uluru, but on closer inspection, it's made from billions of round stones and sand.


Photo D Byer
Walking between the formations gave a great view of the size of these rocks.

In the Ayers Rock Resort, there is a visitor's center that explains the formation of these two stone structures. I'll try my best to recap:
Uluru began its formation over 550 million years ago when erosion of a mountain range formed piles of sand. This sand was then compressed into sandstone by an inland sea that covered Australia 50 million years later. Over time the sea disappeared, and the flat field of sandstone was shifted by movements in the earth's crust. Eventually, parts of the sandstone was pushed out of the ground, and the surrounding dirt and rock was eroded away. What we see today is just a tip of the sandstone that lays under the ground. It's kind of like a huge hand shaped piece of rock several kilometers long with a finger or two bent up and sticking out of the ground.
Kata Tjuta (The Olgas) were formed in the same fashion, only it began with loose river rock, sand, and mud, that's why you can still see the round smooth stones imbedded in the rock formations.
Previous Restoration Day
Next Restoration Day
Home page