Alice Springs Transport Museum
2/12/06
Alice Springs Transportation Museum
I visited the Transportation Museum in Alice Springs. It's claimed to be the largest museum of its kind in Australia, and I have to say it was pretty big.

This museum focused on trucks and the people who drove them. There was a whole building dedicated to Kenworth Trucks, and honored many of the "truckies" who helped build the trucking industry of the Outback.

This is the land of the "Road Train," and there was a lot of information on how these vehicles were first designed and how the industry grew. Although the longest road train allowed on Australian roads today has four trailers, as many as 6 trailers were hauled by one tractor in the early days. They only traveled at about 30 kph, but it must have been wild to see such a long vehicle lumbering down the road.
I've seen these 4 trailer road trains on the Stuart Highway. They have special hitches so the trailers are more stable, but the last trailer can still whip out quite a bit when the front cars begin to swerve. Passing one of these trucks makes for a white knuckle experience when you're doing it on a two lane highway, the distance to pass is four times longer than normal, and the last trailer can sway into your passing lane at any time. The only other choice is to stay behind this Road Train and travel at about 110 kph for the rest of the Stuart Highway.

The back of the Transportation Museum had a restoration shop where many vehicles wait for attention. many of them were donated retired work trucks from the Northern Territories.

Next door to the Transportation Museum was the Ghan Historical Society. The Ghan is the train line that bisects the center of Australia from south to north. When it was finally completed early in the 20th century, it opened Alice Springs, and Darwin to the north, to the rest of Australia.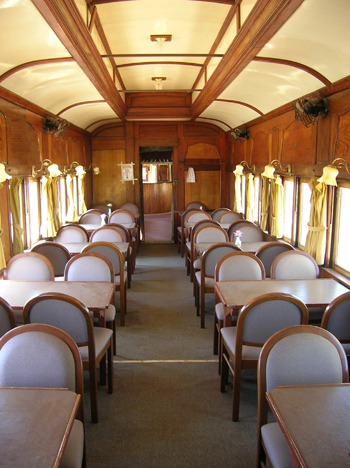 As tourism increased in the years after WWII the cars became more luxurious, and the ride became more comfortable. Today, the Ghan still runs, and is considered part of Australia's great train journeys.
The Museum chronicled the laying of the track and the growth of the train service through the years. Luckily the museum was air conditioned as it was easily 100 degrees in the train cars.
Previous Restoration Day
Next Restoration Day
Home page