Ferrari in Perth
2/15/06
Ferrari in Perth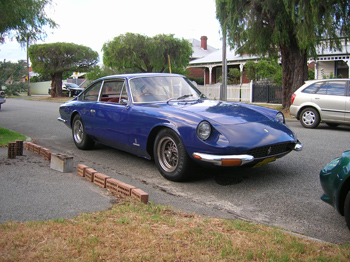 We met Some Ferrari owners while we were in Perth, and when I was planning my trip, they were more than happy to show us their town and set us on our way. Andrew and Kelly own this blue 365GT 2+2, and live just north of the Perth central business district. They invited my family along with Hugh and Eileen, Series I 330GT 2+2 owners, to dinner. I met these two couples last year in Monterey at the tomyang.net party, and we spoke about my visit to their side of the world. I couldn't believe 6 months later, I actually made it to Perth!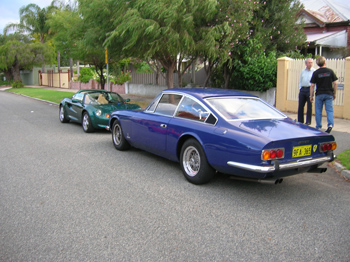 The 365 is Kelly's car, as she bought it from a co-worker a few years ago, but being her husband, Andrew gets to drive it! Kelly is not only passionate about Ferraris, but many other forms of transport. Her other car is the Lotus Elise pictured facing the Ferrari. Andrew is actually the one worried about Kelly's desire for racing motorbikes, and is relieved that she is considering retiring her racing leathers!
The day before, Kelly took me for a quick spin in the Lotus. She took me along the water in Perth to see some of the sights, and to feel the sportiness of the car. Whenever we had a chance to break out of traffic, she accelerated without effort in this tiny car. This is a Series I Esprit, which has a Rover motor powering the car from mid ship. The later cars have Toyota engines, but gained some weight from added options. The ride through the moonlit city only made me want to own one of these cars even more, but I was grateful for the experience!

Andrew and Kelly have been slowly sorting this old Ferrari out. It has great patina and still keeps its original color combination. As Andrew took me and Hugh for a ride, the purplish color of the car really came out in the setting sun. We took a route through town so that we could run through the only tunnel in all of Perth just to hear the growl of the V-12! Andrew wanted me to drive, but I was too nervous about piloting a RHD Ferrari, and shifting with my left hand. I conceded in do the driving in a parking lot, and was happy I didn't agree to drive on the streets. I'll need a lot more practice driving a regular RHD standard shift before I feel comfortable driving someone else's Ferrari!
As Andrew drove us back to his house, I laughed at the ease he was able to make sharp turns. Prior to the 365 made with power steering, all of us who own older Ferraris instinctively ready ourselves for a wrestling match with the steering wheel when making slow speed turns, especially with passengers in the car! Andrew had no clue what he was missing!