Leaving Perth
3/1/06
Leaving Perth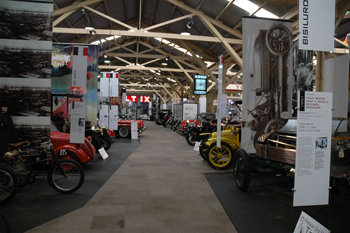 We spent the last days in WA in Perth having pleasant dinners with our hosts and catching last minute sites. Andrew and I visited the Fremantle Motor Museum housed in a warehouse near the wharfs. The owner and founder, Peter Briggs, split the collection and displays cars between Fremantle and another facility in York, about an hour outside of town. Unfortunately, I had to choose which one I had time to see, and Fremantle was closer to where we were staying.

The only Ferrari to be found was this 512BB. Andrew explained that the engine was out of the car for a rebuild and the owner is friends of Mr. Briggs, so it's on display until the car is finished.

The Fremantle Maritime Museum was also a necessary stop while I was in town. Almost every town in Australia has a Maritime Museum, but this one I wouldn't miss. It's display of the Batavia, along with the its frightening story of shipwreck and ensuing murders was fascinating.

The Maritime Museum also has displays of works-in-progress. Here is a steam engine that is being brought back to life.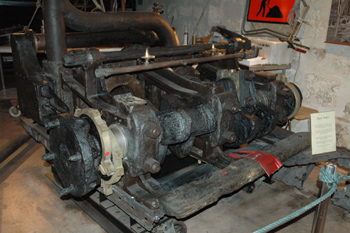 If you think seized Ferrari engines are bad, how about a stem engine that has been left sitting in the salt water for years?

After the two Museum stops, Andrew took me to see the sights of Perth from along the banks of the Swan River. You can imagine the desire for one of these houses built along the river overlooking the city. Development here is at a rapid pace, as more and more money is made from a natural resource boom in WA.
Dinner that night was at the Cromie's, in a suburb 30 minutes outside of Perth. Hugh and Eileen's house is far enough outside of the city to have sheep and horses living in the neighbors yard! There is also enough room to house some of Hugh's cars.

After dinner, Hugh and I popped out back to have a look. He's collected these cars over the years, and will eventually find time to get them all running again. With one last child finishing up her studies in University, perhaps Hugh will finally get a chance!

In the back of the garage was the Series I 330GT 2+2. Hugh bought this car in the U.K. when he and his wife lived there about 20 years ago. It was basically driven home after the sale, and parked! It came home with them to Australia, and waits to be revived!

An interesting detail was the modification the previous owner made to the side vents to the car. The early 330s had several louvers for side extractor vents, while later 330s had a tree section vent.

A previous owner made a amateurish attempt at modifying the early vent to resemble the later three section vent with very little success. When Hugh gets around to restoring this car, these vents will have to be replaced.
As we left Perth to fly to New Zealand, we said good-bye to our friends who were such great hosts. Meeting people who are local to Australia has made our discovery of this country so much richer, and we can't thank Eileen, Hugh, Kelly, and Andrew enough for their hospitality! My wife and I have realized that Western Australia deserves more time for visit and promised ourselves to one day return to see more of it. It is just as beautiful as other parts of Australia, but seems to be the little secret that has yet to discovered by the rest of the world. I hope it remains secret long enough for our return!
Previous Restoration Day
Next Restoration Day
Home page