Bluff to Te Anau
3/9/06
Bluff to TeAnau

We started out our day on a hike in Bluff, NZ. It's a town south of Invercargil where we spent the night. People seem to have mixed opinions of this area. Some think of it as nothing but an industrial town with nothing to offer, and others feel that the area has a lot of scenery, and is a launching point to either the Caitlins to the east, or Fiordland to the west. We found it as a nice place to spend the night, but couldn't wait to head out to the Fiords!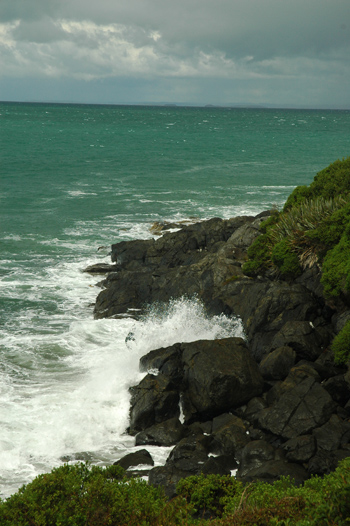 We often take a hike in the mornings to wear out our daughter in time for her afternoon nap during a car ride. This hike was a little wet, but it did the trick when the little girl slept for two hours in the car.

As we continued west, the horizon began to reveal the mountains of the west coast.

Soon, they were looming over the farmland. After being in Australia for the last few months, it was refreshing to see snowcapped mountains.

We arrived in Te Anau, a town named after the lake where it sits. These Fiords were carved out by glaciers millions of years ago, and some of these lakes are hundreds of feet deep. Te Anau is the closest town to allow access to some of the biggest attractions to the area. Just the drive up to the town was breathtaking, I can't imagine what it will be like in the next day or two!

Exploring the area can be done in all matter of ways, from sea plane, to tour bus. Tomorrow, we will take a ride on a boat to see the Fiords up close.
Previous Restoration Day
Next Restoration Day
Home page