Greymouth to Picton
3/14/06
Greymouth to Picton

We stayed two days in Greymouth NZ, not to do any sightseeing but to take a break from all the traveling. Pounding away at the miles, getting out to see the sights, and packing up all of our stuff everyday can get pretty tiresome. We also all came down with colds since arriving in NZ, so a break was needed to rest. Unfortunately, there was very little time for rest as laundry needed to be done, my hair needed cutting, and phone calls needed to be made. While I was in town, I looked for internet access so I could upload my latest journal entries. Although Internet access is widely available, high speed connections for my laptop is a little harder to find. I usually have to find a computer repair shop that has an ethernet connection I can use, or a wireless connection at a cafe. Most cafes have dial-up connections, and are too slow for uploading my files. New Zealand as a whole doesn't seem to have good upload speeds. The national telephone service claims they are upgrading, but the customers are still waiting!

We got in the car today to complete another long day of driving. We really needed a day off to rest yesterday, but now had to make up the distance. The plan was to go from Greymouth to Picton, about 250 miles over twisting mountainous roads. We first headed up the west coast to see some of the shoreline. The fauna was changing, and seemed more tropical as we headed further north for warmer climates.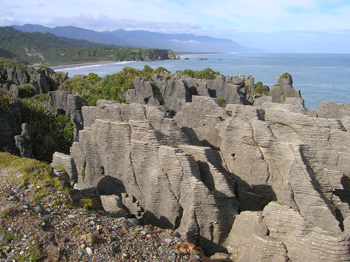 The Pancake Rocks were a local attraction on this part of the West Coast. I guess the limestone formed what looked like stacks of pancakes.

Further down the shore was another set of rock formations. Maori legend described figures and faces in each of these rocks.
After the Pancake Rocks, we left the coast and headed inland. The roads to Picton wound up and down mountains and valleys making the driving challenging and fun, but after a few hours, I was exhausted! After lunch, the road flattened out and ran along a valley floor following a river bed. With little traffic, I made up the time lost winding through the mountains.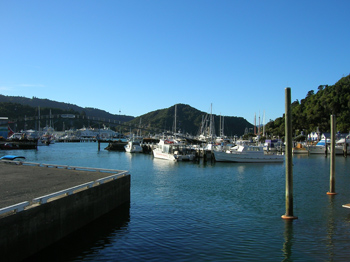 After 5-1/2 hours of driving, we arrived in Picton. This town is in what is known as Marlboro country, and is the Ferry port to the North Island. It's a 3 hour ferry ride where we'll take our car with us to see some of the sights to the north. We're running out of time, but we want to at least see some of the North Island while we have this chance.
Previous Restoration Day
Next Restoration Day
Home page