Volcanos and Beaches
3/17/06
Volcanos and Beaches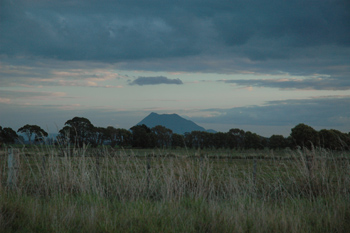 In New Zealand, the South Island is known for its fiords, and glaciers, while the North Island is known for its volcanic activity. New Zealand sits between two tectonic plates and much of the North Island shows signs of the earths magma being close to the surface. Some of the volcanos are still active, but thankfully most of them have been dormant for thousands of years.

We stayed in Taupo situated on the north shore of a lake with the same name. A river flows out of the lake forming these fast moving rapids called the Aratiatia Rapids.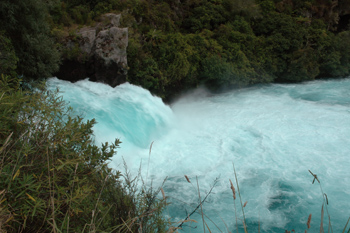 The rapids end in a short waterfall called the Huka Falls. I didn't do anything to manipulate these pictures, because the water was actually that blue!

Continuing North towards Rotorua we stopped at "Craters on the Moon" where geothermal activity created craters and mud pits in an area a couple square kilometers wide. My wife snapped this picture of my daughter on my shoulders looking at the steam coming out of the craters. As I walked along the walkway, I realized in New Zealand, we watched ice melt in the South Island, and now water boil in the North Island!

Since we were only about an hour away from the east coast, we decided to take a look at the Bay of Plenty. The sand is dark from all the volcanic activity, but this area is supposed to be a fantastic beach during the summers. We spent a little time collecting shells, and headed back inland.

We decided to cut out anymore driving up north, and will unfortunately miss Aukland and points north. With so few days left, and the family too exhausted from the driving, we decided to take it easy for the rest of our trip before heading back to Australia. As much as we would have loved to have gone further north, we also knew it would not be enjoyable if we were all too tired to care!
Previous Restoration Day
Next Restoration Day
Home page