Cars in Melbourne II
4/2/06
Cars In Melbourne II
We stopped in Historic Vintage Restorations to find Paul Chaleyer minding the shop on this Saturday afternoon.

With a staff of about 20 craftsmen, there were many projects being completed at the same time.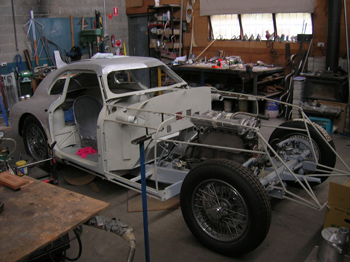 In a metal shop next door, a complete body was being made for this Alfa.

A full size wooden body was made to get the shape and proportions right before the aluminum was formed.

Just about everything for this car will be fabricated from scratch.

After Garry dropped me off at my motel in the afternoon, I went back out to meet Carl Jones at his shop. Within earshot of the Grand Prix, Carl's shop was filled with little red Ferraris. In the foreground was his fiberglass 308 waiting for it's engine to be rebuilt and installed.

The line of cars in this shop showed how far Ferrari went in developing their small displacement engines in a dozen years, from a V-6 to a turbocharged V8 monster!
Previous Restoration Day
Next Restoration Day
Home page