Noosa Ferraris
5/1/06
Noosa Ferraris
During my stay at Andrew's house in Noosa, we sneaked out of his house and away from our families to see a shop not too far away. Carle will be doing the mechanical work for Andrew on his GTE that I photographed a couple of days ago. He's been working on Ferraris, Lamborghinis, and Maseratis for many years and is now working out of his house near Noosa. In the first garage we saw, a customer's Series II 330 was sharing space with a Lamborghini.

The Espada is Carle's personal car that was showing off an immaculate paint job. Whenever he has time between customer projects, he spends a few hours working on restoring this Lambo.

Another personal project was this 288 GTO housed in another workshop. Through the years, Carle has collected some of the body panels that could convert a 308 into a 288 GTO replica, but this mechanic wanted something a little different. A Ferrari front suspension was modified to work with the wider body and a new rear suspension was fabricated to fit a Porsche G50 transaxle.

Even though the transmission is from a Porsche, the powerplant will be Ferrari, but instead of a V-8 found in 288 GTOs, this car will have a 12 cylinder engine out of a 400 coupe. Although there is a lot of work left to do on this car, I can't wait to see how it runs when it's done!

Before we left, Carle invited me into his living room to see one last thing. Carl has created what most of us dream of doing, and his wife has been understanding enough for him to keep it! Under a piece of plate glass is V-12 Ferrari motor for the ultimate gearhead coffee table.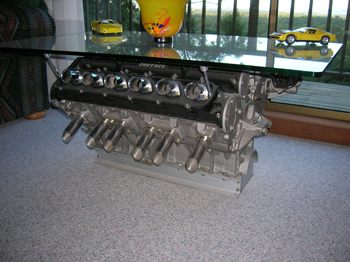 The rear of this engine was destroyed and made useless, so Carle found the perfect candidate for this piece of furniture. His wife explained that she preferred this one over the former Lamborghini motor they owned because that one included the gearbox! They showed me pictures of it after they sold it to a Lamborghini dealer with at least five feet of plate glass to cover the assembly!
Our stay in Noosa had come to an end, and it was time to head north for our final push to the Great Barrier Reef. The Brents were fantastic hosts, and we enjoyed every minute of our visit, and want to thank them for a great time!
Previous Restoration Day
Next Restoration Day
Home page