Rockhampton and Beef 2006
5/5/06
Rockhampton and Beef 2006
After a long drive north we reached Rockhampton, Queensland only to find practically every type of accommodation booked in town! Rockhampton is known as Queensland's Beef Capital, and Beef Australia 2006 was in town for the week. Luckily, we found a room available for just one night, and took it. Since Friday was our checkout, we decided to stop by Beef Australia to see what all the fuss was about!

We may have been to a farm show in New Zealand, but we never saw so many cowboy hats and Wrangler jeans being worn in Australia before! With so many people dressed in hats, boots, and jeans, I wondered if they dressed like this year round?

Cows were everywhere, live ones, dead ones (steaks), and fake ones.

XXXX Gold is popular beer in this part of Australia, so it was fitting to see a beer can bull.

Here's my daughter deciding which cow she liked better. She passed on the Elvis Bovine.

Here she is having a staring contest with a live bull. It's a good thing there was a fence between the two of them because one of them was going to get hurt in this match!

As with any show there was judging of animals. We were too busy learning about Bovine Feed, and Cattle Fencing to watch!

There were horse training demonstrations in another paddock with a cowboy holding two whips. Whip cracking is an art in the outback, and watching him crack these whips with such accuracy was impressive.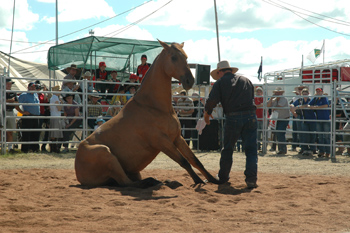 Watching this horse sit up like a dog was a first for me too!
Besides the Beef, Rockhampton is known for being on the Tropic of Capricorn. Now that we crossed this latitude, we're officially in the Tropics!
Previous Restoration Day
Next Restoration Day
Home page