Another Sydney Ferrari Stash
6/5/06
Another Sydney Stash of Ferraris
In the northern suburb of Sydney is a shop that doesn't advertise the work they do on Ferraris, Abarths, and other other sports cars. One reason is its owner is scaling back his once bustling shop to finally make room for some personal projects. The other reason was the work on these exotic cars always seemed to find them! I received an invitation to visit Les Miller's shop from his wife Sue after we corresponded via E-mail while I was on my way south from Cairns. Since we were driving back to Sydney to fly home, I made plans to make one last Ferrari stop before leaving Australia.

Les and Sue have been working together repairing sports cars for over 35 years, and in that time, have accumulated a few for themselves. This Daytona was one Ferrari Les has decided to keep.

These cars are starting to take off in price, and Les is lucky to have this low mileage RHD model.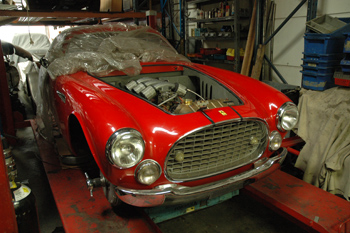 Another horse in their private stable was this Vignale bodied Ferrari 212. It's officially Sue's car since Les purchased it for her 30th birthday. He found it in Queensland after it sat for years exposed to the elements. In Queensland, many houses are built on stilts to avoid the annual floods, and the previous owner stored this 212 under his house, allowing the car to get flooded up to the door sills every year. Obviously, the car was in a sad state when Les found it, but Sue was overjoyed with her birthday present. Les repaired the car, and the family enjoyed it for many years until recently when Les decided to completely restore the 212. Today, this fifty year old Ferrari is almost finished.

Saving the best for last, I was brought back to the Miller's home to meet Sue, and her pride and joy, her 250PF Cabriolet. Sue has driven this car since 1967 when it arrived from it's previous owner in Perth. This Series II Cab has seen two paint jobs, and over 200 Kilometers on the original main bearings!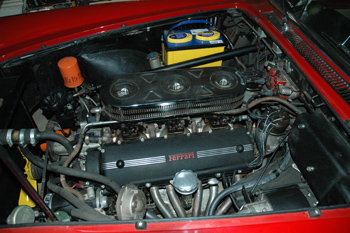 The engine had its heads done with new seats and valve seals, but there has never been a reason to take the rest of it apart. Sue still drives it regularly, even if the general public seems to not know what it is! She was once asked if it was an MG!?
Les and Sue were founders of the Ferrari Club of Australia's NSW chapter in the 60s, but have moved away from the membership. It seems to be a common problem of many I've spoken to here in Australia with owners of Vintage Ferraris. It seems many of the club members today own newer cars, and have very little interest in the older Ferraris, let alone discussions about how to fix them. It's a shame, as I thoroughly enjoyed my day visiting with Les, Sue, and their son Michael. I could have overstayed my welcome even more by hearing more stories about their cars and the people they've met, but it was time for me to head back to Sydney. I want to thank the Millers for making my last Ferrari visit in Australia a great one!
Previous Restoration Day
Next Restoration Day
Home page