Helping Francois
8/10/06
Helping François
A couple of days ago when I stopped by François to check on my overdrive I stayed the rest of the day to help him out. He's so busy with Ferrari work that he's had to turn away customers. There are currently two Lussos and a Cal Spyder he's doing full restorations, not to mention the the several Ferraris in for mechanical work and routine maintenance. Since I haven't haven't had a job since December (and enjoyed the time off immensely), I've decided that his shop is the best place to ease myself back into some work! He has a lot to teach me and I have a lot to learn, so as long as he lets me, I'm going to spend a couple of days a week helping François out.

My first job was to work on this Lusso's front suspension. Everything's been restored, and we're at the final stage of assembly. My job was to tighten everything up, and install all the cotter pins. It's pretty tedious work, but it sure was a joy to work on something that was brand new and clean! My first lesson on cotter pins goes back 5-1/2 years ago!

Today's work involved an old friend. I'm sure you've seen this silver GTE on this website before. It's Scott Garvey's car, and it was my job to try and finish her up for delivery.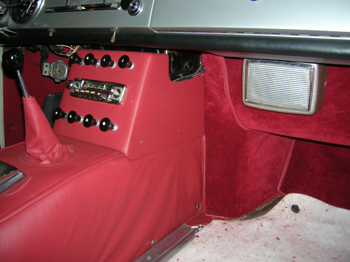 The first priority was to install the radio and speaker. Since my previous professional life was an Audio Engineer, there were no major hurtles in my completing the task. The Blaupuknt radio was wired in and connected to an original Blaupunkt speaker. I fabricated a bracket and installed it on the passenger side footwell where I've seen others mounted. These radios were often dealer options, so speaker type and placement varied from car to car. It was a nice touch however to find a matching speaker.

Looking at some of the upholstery that Frank Segreto did on Scott's car, I noticed a major problem. The piping that trims the rear seat back somehow became wavy. Since leather is a natural product, things like this occasionally happen, but we certainly couldn't send the car out like this!

The only solution was to pull the rear seat back out of the car, and reattach the piping sans wrinkles. With the front seats out of the car, now was the time to fix this problem. Having good practice in removing and re-installing a 2+2 interior, I offered to do this job instead of waiting for Frank to come up to François' shop.

The piping looked a lot better after it was smoothed out, and I was glad I was some help!
Next week I'll be in Monterey for the all the Car-related events. Tom Shaughnessy and I will also be hosting the annual Tomyang.net West Coast Party on Thursday night. Here are the details:
Mariposa Inn
1386 MUNRAS AVENUE
MONTEREY, CA, US 93940
Thursday, August 17th at about 7pm.
It's BYOB and parking for your rental car should be across the street at the shopping mall so the motel parking lot doesn't get too crowded.
If you're going to be in Monterey and can't make the party, but still want to meet, e-mail me and I can give you my new cell number to try to get together. So far, I'm going to be wandering around Carmel on Thursday to see the Pebble Beach entries drive into town, Quail Lodge on Friday, and Laguna on Saturday. I don't think I'm going to make Concorso unless someone has a free ticket, as I can't really justify paying for two events that happen at the same time!
Previous Restoration Day
Next Restoration Day
Home page