Monterey '06 I
8/16/06
Monterey '06 I
Whenever I head out to Monterey from New York in August, I always forget to pack warm clothes! It goes against my East Coast logic that it could be in the 50s and 60s in the middle of summer on the Monterey Peninsula, but it inevitably becomes cold at least one day during my stay in California. This year, I was cold all week!

The first thing I did was head over to the Portola Plaza in Downtown Monterey to see the cars up for auction at the RM Auction. This year, they had a few nice Ferraris which included a nice GTO replica, a Black/Black 512BBI, and this nice 330 GTC.

This was not a show car, but a very presentable driver, with good aging (I'm so tired of hearing the word "Patina!")

The engine was pretty nice with small problems in detailing, but clean and respectable. This car sold for $170,500.

Among all the interesting cars for sale, a couple stopped me dead in my tracks. From the profile, this car seemed interesting, but with a dated 70s angularity. It looked like an oversized Triumph TR-7.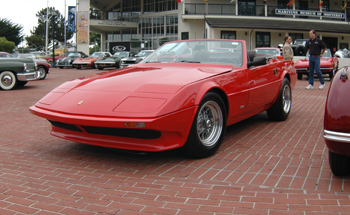 Walking around to the front, it had design cues from a Corvette, and Daytona. The mechanicals, like the wheels and the exhaust, were definitely Ferrari, and when I heard them fire it up, it had the unmistakable V-12 sound under the hood, but what was it?

As I walked around to the back, I was slapped in the face with not only the huge NART badge, but also a large square brick of a rear end! As the design of the car completely fell apart for me, the NART badge explained a period in the 70s when North American Racing Team, Luigi Chinetti's Ferrari race team, began designing their own cars. Luigi Chinetti Jr. spear headed many of these projects, and I'm going to let this car speak for its success.

The 70s was not a proud moment for many auto makers and designers, but the block of foam they used for a dash board in this car could have used some imagination! This 365GTS/4 Michelotti NART Spyder was sold for $385,000 dollars, which must mean somebody loves it!

RM was auctioning another NART creation, and this was was even stranger than the Spyder! The Cadillac NART Coupe was a design exercise to create a rear drive mid-engined four seat luxury car by using a front wheel drive engine/transmission from a Cadillac.

I walked all around this car looking for a good angle, and didn't see any!

It was hidden from plain sight of all the other cars, perhaps not to scare off the bidders. The interior was no better, and I was so shocked at it's poor execution, I couldn't bring myself to documenting it! This car sold for $57,750.

I bumped into Luigi Chinetti Jr, while I was wandering around the preview area, and avoided talking about these two cars with him. I desperately wanted to hold someone accountable for these two cars, but I knew out of respect, it was a bit of history that should be better left alone!
Previous Restoration Day
Next Restoration Day
Home page