Lusso Electrics
9/7/06
Lusso Electrics
Today's tasks centered on a whole bunch of little electrical issues on the Lusso in François' shop. This car has been at Francis' shop for a partial restoration which involved full paint, chrome and carpets. Portions of the car had been done by another shop, so other hands have been inside this Lusso.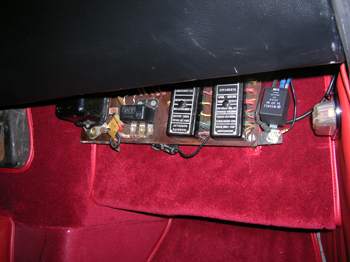 The coils, which normally have separate wires emanating from the fuse panel, had one wire that was jumped between the two coils. My first job was to find the missing wire or add a second wire so each coil would have their own power. After this was sorted, I turned my attention to an old alarm system that was wired into the horn relay. Wires were run to the back of the car where a keyed switch turned on the system, but the sensors that would trigger the alarm were missing. I removed the rest of the cark from the car, and restored the electrics to their original unspoiled condition!
The third electrical issue was the courtesy lights inside the car. When the door panels were removed for paint, someone cut all the wires leading to the door switches. The old ones had to be found, repaired or replaced. All the while I was working on these wires with cutters, screwdrivers, and soldering irons, I had to be very careful not to scratch any of the newly painted surfaces.
With the third project behind me along with lunch, I started on electrical issue number four, the license plate lights. New pig tails needed to be soldered in to finish the wiring in the trunk. After this was done, I glued all the carpet pieces in and finished off the trunk. From there I went back to the interior of the car and started installing the washer pump. This pump sits where the old American high beam switch used to sit down by the driver's left foot. It manually squirts a shot of washer fluid from the press of the foot. As I sorted out the various hoses, tees, and connections, I realized we didn't have a washer bag.

It normally hangs from a bracket in the engine compartment where the red arrow points. Francis had a washer bag from a later car, but not the right one for this Lusso.

In an issue in Cavallino, there were pictures of the correct bag for the Lusso, so at least we know what to look for. I offered to see if I could find one with the power of the Internet and my website. It would be great to prove to Francis that my website can be a powerful tool in finding parts for old Ferraris, so does anyone have, or know of someone who has one of these bags to sell? If you do, e-mail me.
Previous Restoration Day
Next Restoration Day
Home page