Gullwing Motor Cars
11/10/06
Gullwing Motor Cars

A friend of mine from the website called to meet while he was in Connecticut on business. Andrew (fest), wanted to see a Ferrari in Queens, NY, and wanted to know if I wanted to join him. The car was at a place called Gullwing Motors in Long Island City, an industrial area just outside of Manhattan. Gullwing has a reputation for buying and selling "barn finds," and I was curious what this 365GT 2+2 would look like.

Their warehouse is packed door handle to door handle with cars. We had to move three cars just to get inside the Ferrari. There was barely enough room to walk between the cars.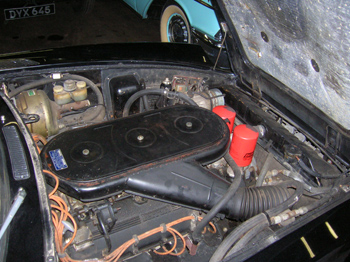 Going into this inspection, we were told the engine "needed a head gasket," so this car was going to be a tough sell. Not only are head gaskets expensive for a Ferrari, but simply removing a head is a real pain in the butt while it sits in the car, provided that is the only problem. The right way would be to remove the engine, pull the heads, find out why it blew its head gasket, and probably rebuild the engine while it was out of the car. A cheap fix (when is it ever cheap?) would probably run a few thousand dollars, if you could even find a mechanic willing to do a patch job on a Ferrari, but a full rebuild would easily run over $20K.
Just pulling the dipstick confirmed a blown head gasket as it was covered with oil that looked more like turkey gravy!

Andrew has been looking for an automatic transmission 365, and this is one of 7 cars that were special ordered from the factory. Francois expalined that Dick Fritz, who was manager for Chinetti Motors and now owns Amerispec, modified the first one in the States, and sent the information back to Italy so the factory could produce more when they were ordered.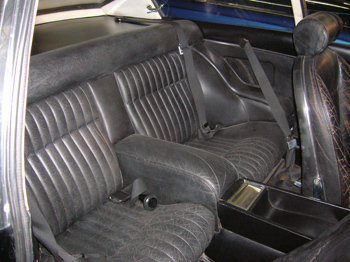 This car is an unrestored car that is showing her age. Many of the original details still exist, so she has not been messed with by the wrong people. If it wasn't for the blown head gasket, she would have been a nice car to leave as is, and drive.

Andrew is probably going to pass on this car as it needs too much to justify its $56,500 asking price, but it's hard to walk away. Sometimes seeeing a car in person will put the issue out of your mind, and is often the only way to keep it from haunting you, but this visit may have only given him more food for thought!

While we were looking at the Ferrari, I couldn't help my wandering eyes from looking at all the other stuff they had. Seventy five percent of the cars in this huge warehouse were project cars. Many of them were English cars, but there was a Alfa Duetto Spyder calling me to have a closer look. I resisted the attraction because I knew that if this worn out car, that needed everything, got me to come closer, I might fall for her!
Previous Restoration Day
Next Restoration Day
Home page