Sport Auto
1/18/07
Sport Auto
It's been slow over the Christmas Holidays at François' shop so I've been keeping busy with the rebuild on my Mustang engine, but I'm sure just like you, I needed to look at some Ferraris! I called Bill Pollard at Sport Auto located in Gaylordsville Connecticut to stop by for a visit. Bill's shop is about a hour's drive south from my house, and was a pretty drive to look at some cars.

Bill's shop has been at this location for the last 18 years and built a reputation on working on 70s and 80s Ferraris, but has expanded his scope to the earlier cars like this 166 Vignale bodied coupe. The variety of cars at Sport Auto now spans four decades of Ferraris with clients form all over the United States.

Sport Auto is completing a "sympathetic restoration" for the owner of this first Vignale bodied 166 by trying their best to preserve the original details while preparing it for road use. The body will not be smoothed and painted to a mirror shine like many of the restored cars you see at Pebble Beach, but rather cleaned and painted while preserving the original level of detail found on these cars when new.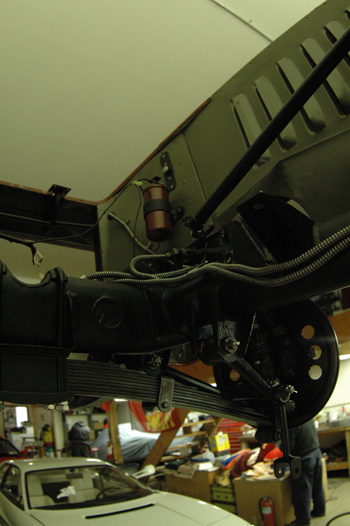 The paint and primer was painstakingly scraped from the inner panels of this car, but much of the original welds and panel beating marks were saved. A fully restored car, although beautiful and a pleasure to view, seems to obliterate much of the original craftsmanship from years ago. Some cars are too rusty to preserve these details, but when the right candidate is found like this 166, it's nice to see some effort taken to preserve the handiwork of an Italian coachbuilder of long ago.

Pollard was factory trained in the 80s and prefers to apply his knowledge to the older V-12 engines. Here's a two mount 330 GT 2+2 getting a rebuild. Five other engines are in line waiting for attention.
Although Bill was happy to show me his shop, he was in the middle of expanding so things were a little messy. Sport Auto is doubling its size by adding a second building down the street, and everyone at the shop is excited about the new shop. I spent most of the day talking Ferraris with Bill that I ran out of time to call a neighbor of his that also deals with Ferraris. I'll have to promise to call Pete Sweeney the next time I'm in Gaylordsville!
Previous Restoration Day
Next Restoration Day
Home page