Cavallino I
1/25/07
Cavallino I

SN 3729
For years I've been meaning to head to Florida during the dead of winter to see the event organized by John Barnes and the people of Cavllino Magazine. I arrived at West Palm Beach on Thursday which was the middle of what has become a week long event dedicated to Ferraris. Moroso is a track that is a 30 minute drive from the interstate where many rare cars came to display their ability at speed.


SN2443
Thursday was for the truly dedicated of this two day track event, as the temperature dropped to 40 F with a steady downpour. Although uncomfortable, it was still warmer than the single digit temperatures my wife reported from my home in NY!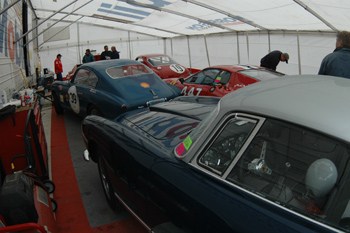 Many race shops had their trailers and tents set up, and visitors were allowed to marvel at the machinery. The rain did not stop many track rats from getting out on the track and practicing their wet weather driving techniques.

One car that caught my eye was this 166 owned by Stephen Dudley.

Seeing so many restored cars at these events I am often drawn to unrestored cars with largely original paint and detailing from over 40 years ago. As the saying goes, "you can restore a car dozens of times, but it's only original once!"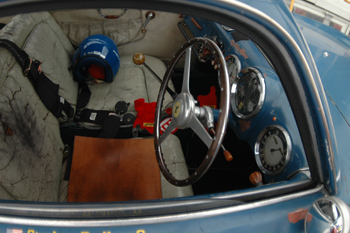 Only the necessary items on this car were restored, like the gauges and I'm sure many of the mechanicals, but the paint and leather still showed plenty of wear, tear, and history of it's racing past. I loved the use of a square piece of leather to cover what I'm sure was a hole in the driver's seat. How many points would get deducted at the Breakers for that modification?!
To chase off the chill of a rainy day, I met some friends for dinner in Palm Beach. As I was introduced to my dinner companions, I was humbled by their reputations. These guys have all been involved in Ferraris for many years, some of them longer than I've been alive, and I began to wonder what I was doing sharing a meal with them! After loosing my initial inhibitions, I tried my best to absorb all that they had to say about their personal cars, experience in the early days, and opinions on what they thought about the Ferrari hobby today compared to thirty years ago. I was honored to have shared a table with these guys, and could not have felt more accepted into a world that has been around for decades.
After dinner, A couple of my dinner mates were heading over to private party held in an industrial area on the edge of West Palm Beach. They assured me that although it was an invitation only party, I could probably be admitted "as one of their dates," so I accepted with nothing to loose except an evening to talk more about old cars and Ferraris!
Jeff Fisher is a prominent car collector that hosted this party for friends and participants of the Cavallino event at his personal garage. It formerly was a tobacco warehouse, and many of the original architectural details were preserved or restored. Mr. Fisher's taste was focused on Ferraris, but appreciated other significant automobiles like a Gullwing Mercedes, to a Bugatti Convertible. I was even told that a Triumph TR-3 sitting in the corner of his shop was the car that started his collection.
Mr. Fisher's Ferrari collection spanned from a 212 Export Spider Vignale to a Lusso, continuing on to a modern F50 and 550 Barchettta. Many of the people in attendance were very knowledgeable about each car, and specific expertise on any topic automotive was never far away. It was great to just hear some of the knowledge shared by the guests over cocktails and appetizers. At events like these, I always wish I could clone myself to be in several conversations at the same time. On one side of the room was a group listening to Bob Smith of Coachworks talking about Ferrari restorations, next to him was Dick Fritz telling stories about managing Chinetti's shop in the 70s, and nearby Werner Phister of Miller Motorcars was showing me the neat details found on the Gullwing. The knowledge base collected in this old warehouse that evening was phenomenal, and I wished I could have listened in on more than one at a time!
I never had a chance the personally thank Jeff Fisher for this once in a lifetime opportunity to see his collection and to hear some great stories, but if anyone out there knows Jeff please let him know he has something very special in the gathering he has at his Stable!
Previous Restoration Day
Next Restoration Day
Home page