Cavallino II
1/26/07
Cavallino II
The cold weather left south Florida, and we were met with bright sunshine and 80 degree weather for Friday's track day. Although I know very little about the modern cars, I do know that the sounds they make is pretty neat. I believe this is a 333, and they were warming it up in the paddock. Click on the picture to hear her run. Little digital cameras don't do much justice to hearing these cars in person.

In the parking lot were all sorts of Ferraris from brand new Superamericas to a couple of GTEs! This car was SN 2171, the second production GTE. It's a low mileage, original car with, I believe, under 30K original miles.

Frank lives in Florida, and actually used my site to guide him in the ownership of this car over the last couple of years! He's been trying very hard to determine what parts are original to the car, or were replaced through the years. Since this is such an early car, there is no proof what became standard on later GTEs was actually used on the early cars.

Several examples of differing details was in the engine compartment. The throttle rod is mounted on the right valve cover, where all other GTEs I've seen have them on the left valve cover. The air cleaner nuts are not the same as the three eared nuts believed to be correct, but I'm not so sure these two eared nuts weren't installed at the factory. The real intriguing thing however lies in the distributors. If you look closely, you'll see there are two coils for EACH distributor totaling four mounted coils in the engine compartment. These are Bosch manufactured distributors similar to ones found in a Mercedes 300 SL Gullwing, but not exactly. The previous owner thought these distributors were installed sometime in the early 70s, but there are some clues that seem to state otherwise. The cap and rotor are the same for a 300 SL, but a different part number is found on the bodies of these distributors. The owner removed these distributors and found their advance curve was matched to the more common Marrelli distributors found on Ferraris and not the same as a 300 SL. I've heard of Lucas distributors mounted in Ferrari motors from the factory, but rarely Bosch. Rumor has it some Superamericas had these Bosch set ups? Can anyone out there enlighten us? E-mail me with your thoughts.

Just behind the red GTE in the parking lot was Art Taxman's 250 GTE. It's just back from some repair work to its front nose, and it looks great. I've met Art in Monterey several times in Monterey, but this was the first time I saw his car on his home turf of Florida.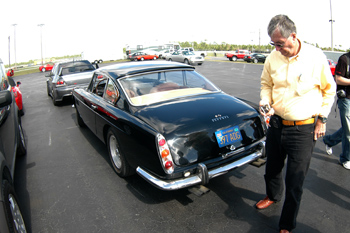 I was in good company inspecting Taxman's car as Hilary Raab came over to take some notes. If you don't recognize the name, Hil has published two Ferrari books that cover both even numbered vintage race cars, and odd numbered vintage production Ferraris. I spent several opportunities speaking to Mr. Raab during the Cavallino event, and his knowledge is encyclopedic when it came to old Ferraris. He's owned dozens of cars over the years, and many of them were Ferraris. The lack of support and information to maintain these Italian cars thirty or forty years ago caused guys like Raab to collect and share information with other owners to keep their cars running. Your last name didn't have to end in "R," but names like Raab, Ridgley, Roush, and Riff were all the pioneers that laid the groundwork for us to use today. I'm always amazed what they accomplished without the aid of e-mail and Internet.
Previous Restoration Day
Next Restoration Day
Home page