Cavallino III
1/27/07
Cavallino III
I friend of mine reserved a room down the road from the Breakers but had to leave town on business the last minute, so I managed to stay Friday night within walking distance from the famous Palm Beach Hotel (thanks David!)! I took advantage of the location by arriving at the Breakers at 7am to watch the cars drive up and wait to get parked on the lawn.

Two Long Nose 275GTBs were waiting to go head to head in show competition, but their owners and restorers were trying their best not to look like there was tension between one another. The silver car was a two-cam car, while the yellow one was a four cam example expertly restored by David Carte.

The early morning hour was a great time to see the cars unobstructed by spectators. The light was beautiful, and the sounds of the Ferrari engines cutting through the still morning air made for great background music.

It was getting close to "show time" for everyone bringing their cars to this event. Care was taken every step of the way to get these cars as presentable as possible, and all the wrappers were about to come off.

I wanted to describe the juxtaposition of these two cars as the old and the new, but realized that even the F40 is a 20 year old car! Several of these twin turbo V-8s were in attendance, since they was being featured for their 20th anniversary since production. Even 20 years old, the F40 still looks great, and swings a big stick (or spins a big turbine) when it arrives!

Tom Shaughnessy and Zac Dugger arrived in two cars they brought out from San Clemente, CA. I especially liked the painters tape used to hold all the lights on Zac's car. They focused on getting this "barn find" driveable for this event, but not exactly road legal!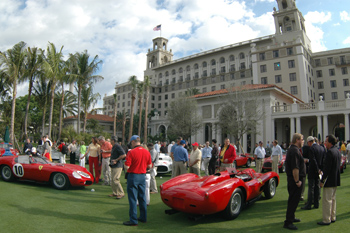 The grounds in front of the Breakers were quickly filled with some of the finest examples of the Ferrari Marque, and the spectators arrived soon after.

One car that caught my eye was this Vignale bodied 212 from the early 50s.

I always love the look of the early engines, perhaps because I rarely get a chance to see one up close.

The interiors of these 50s vintage Ferraris also have an exquisite look to them. The details on the handles and knobs looked like they belonged on furniture than in a car. The two tone interior of this car matched its exterior paint scheme nicknamed "The Bumble Bee!"

I know these compound curves would have never been possible on a production car in the U.S., but thankfully these hand built cars were made to follow some great designs.

Although I tend to focus on the earlier cars, there were plenty of post 70s to modern day Ferraris at the Saturday event at the Breakers. If you were a Ferrari fan, there was something for everyone.
Previous Restoration Day
Next Restoration Day
Home page