Cavallino Miscellaneous
1/30/07
Cavallino Miscellaneous
I met Greg Brendel on Saturday while he was preparing his car for judging at Cavallino. He is a member of my Vintage Ferrari Forum, and it was good to put another face to a name from my website. Greg has a very nice 330 GTC, and decided to submit it for judging. Not expecting to win anything, Greg wanted to use this opportunity to see what the judges thought and to help him make his GTC a better car.

Greg looked a little stressed, and when I asked, he explained that the car was experiencing some electrical gremlins upon arriving in Florida from Dallas. The car would sometimes not start, and the gauge lights would sometimes go out. A bad ammeter connection or ignition switch were suggested, and Greg found himself at an auto parts store in seedy part of South Florida the night before trying to restart his car. He managed to jump the wires under his dash to get his car back to the Hotel, and even get it to the Breakers the next morning, but now he was worried she wouldn't start in front of the judges!
I stuck around long enough to hear the old girl fire up for the three judges, and to see a grin spread from ear to ear on Greg's face! I hope he did well.

There was only one GTE present at Cavallino, but it was a very fine example. Todd Coady drove SN2367 to high school in the mid sixties, and has owned her ever since. About two years ago, he decided it was time to completely restore this car even against the warning from his restorer that the price of restoration would easily exceed the value of the car. Cost was no object to Coady as this car was a part of his family and equally valuable as any other car in his collection.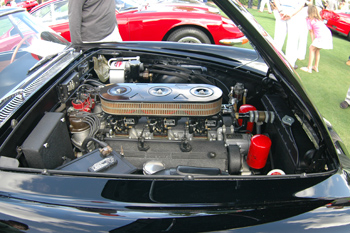 (notice the right side throttle shafts?)
Everything was restored to new condition, and Todd was as proud of his car today as I'm sure he was as a teenager in High School!
An interesting detail on this car was when Todd's father bought him this car, it had a replacement engine fitted which turned out later to belong to a much more desirable California Spider. Reuniting the Cal Spider engine with the million plus car helped pay for some of the expenses of the restoration and find a period correct GTE engine, but that's another story!

Another show was happening in the parking lot at the Breakers, but I couldn't figure out what to look at, the cars or girlfriends!

I found this 365GTS sitting in the parking lot that drew me away from the flash of all the newer red Ferraris. Everything was faded on this car, but seemed like a presentable solid car. Other people at this event seemed to agree, as the driver's seat was littered with business cards that potential buyers had slipped past the window.
Previous Restoration Day
Next Restoration Day
Home page