Transmission Installation and Trip to RPM
2/17/07
Transmission Installation and Trip to RPM
Mike Meehan came over to help me put the Ferrari Transmission in the 330 America. Our plan was to get the nose of the transmission into position before heading out to a party RPM in Vermont was throwing in at their shop. Yale Evelev would drive us up there, but not before taking pictures of us struggling with the transmission!

No two Vintage Ferraris are alike, so with one car a transmission will go in without a problem, while in another, clearance issues can abound. My 330 America had the added issue of being a limited production car that incorporated a GTE body with a larger four liter V-12 engine. Getting the transmission out of the car was easy, as once everything was unbolted, a certain amount of muscle just pulled the transmission away from the engine, but getting it back together would take a little more precision. With Mike inside the car sliding the transmission into place, I was under the car guiding the input shaft into the throw out bearing and clutch assembly.

We soon discovered a clearance issue with the transmission and the sheet metal in the floor pan. We tried several times to get the transmission through the hole in floor of the car, but things were still hitting. Bored with our lack of progress, Yale left Mike and I with our problem for some fresh coffee and a newspaper.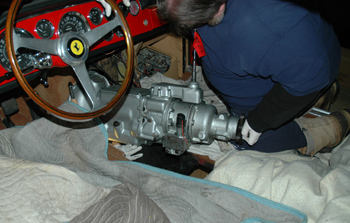 Knowing that François and I had installed this transmission once before, Mike and I discussed how to do this without cutting sheet metal. Eventually, we figured out that the whole transmission had to be turned along its axis to clear the floor pan, and then the input shaft could line up with the engine. Turning a 100 pound transmission however was no easy task when trying to get it to line up with a one inch hole, but the combination of a floor jack, and the two of us pushing, tugging, and prying, the transmission slowly eased into place.
We stood back and admired our accomplishment before cleaning up for the RPM party. We laughed at learning something that could be applied to perhaps 25 remaining 330 Americas in the world. What are the chances of either one of us needing that piece of knowledge on another car?

After a three hour drive north from my house, Yale, Mike, and I arrived in Vergennes, Vermont. Just outside of town are a set of red barns that houses RPM. The Markowski Family have been restoring classic cars for years in this location, and specialize in Vintage Ferraris.

In the middle of the Vermont winter, RPM throws a party for their friends and customers. I couldn't think of a better time and place to look at and talk about old cars. Sitting in their shop next to a pair of Boxers for dinner was a nice touch!

RPM always has a collection interesting cars from this 212 Ferrari, to a couple 356 Porsches you can see in the back. There are several buildings storing cars, and all of them stir the dreams and desires of any car collector.

Here's a picture of Steve Markowski explaining the history of this old Ferrari race car to some of his guests.
to be continued…
Previous Restoration Day
Next Restoration Day
Home page