RPM Party Continued
2/18/07
RPM Party Continued
The history of this old Ferrari race car was interesting. It's early history is a little cloudy, but perhaps one day the pieces to the puzzle will fall into place.

I was more interested in some of the details of the car, and while I was taking a closer look, I saw this air hose fitting on the end of one of the exhaust headers. I couldn't come up with a logical explanation, so I asked Steve. It was part of a little trick they used to get the dents out of the leading edge of the exhaust headers. With about 100 pounds of air pressure, and enough heat to get the steel cherry red, the dents came out of the header like a plastic bottle! A very neat trick!

There was a 365GTC/4 under going a bare metal respray, and it was a good opportunity to see one of these cars disassembled.

Under the main RPM shop was another storage area for cars. The Ferraris included a Series II 330 GT2+2, 400i, 512 Boxer, two 330 GTCs, and a Dino 246GTS. The other marques included Alfas, Porsches, a Packard and a Bentley.

When it came time for dinner, I couldn't think of a better place to sit than next to a Lusso. It was in good company next to a PF coupe.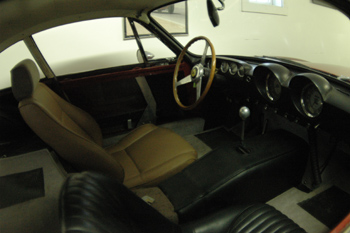 I didn't get to ask Peter or Steve Markowski for more details on this car, but I'm sure there was a story behind why there was a modern driver's side seat in this Lusso.
I want to thank the Markowskis for inviting us up to their party. What a nice diversion for us Northerners instead of staring at all the snow!
Previous Restoration Day
Next Restoration Day
Home page