Spring Carlisle '07
4/20/07
Spring Carlisle '07
I headed out to the-middle-of-nowhere Pennsylvania to attend the annual gathering of car nuts for Spring Carlisle. It's one of the largest swap meets on the East Coast, and marks the beginning of warmer weather for us northerners. The weather can be cold and rainy, but we were blessed this year with bright beautiful sunshine.

Thousands of vendors and tens of thousands of people attend this four day event, and I hadn't had a chance to go for four years. Just being among all the car parts, used cars, and fried dough was enough to make me happy! An old friend of mine from CBS often joins me, and he's a perfect companion because he's always willing to try and walk the 82 acre site with me, one row at a time! We leave at 5am from the NY area, and arrive at Carlisle at about 8:00. By the end of the day, we're exhausted, but it's a good strong shot of gear oil to the veins!

In the four years I've been out of the loop of the American classic car hobby, things have changed. The cars of the 60s are becoming the hotrods of today. Instead of chopping a '32 Ford, people are modifying First generation Camaros and Mustangs. The vendors are responding by offering chassis that are ready to receive any body you want to put on it. Even brand new Camaro and Mustang bodies are being remanufactured so a hot rodder has all new sheetmetal to start with!
I'm not so sure how I feel about building a new/old car from parts you can buy from a catalog. Will it still be a classic when it was made last week? How many owners will it take before these remanufactured cars start selling as original cars to unsuspecting buyers? I'm still trying to figure it all out.

With American iron selling for good money, there were a lot of "Barn Finds" being dragged out to Carlisle. As rough as this one was, it was running and driving.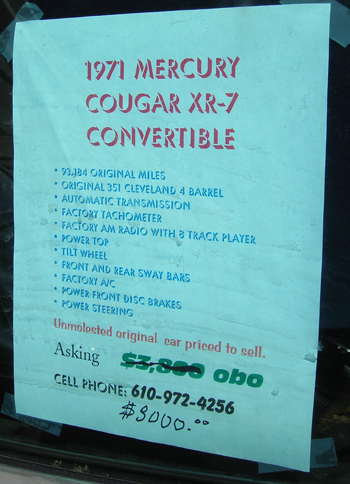 At this price, I could have bought it, dropped the top, and instantly terrorize my neighbors. Restoring this car, however, could be suicide for my checkbook.

There were also some old steel cars for sale for those who still want the classic hot rod look.

At $7500 buks, the sheet metal was pretty nice for someone to start a project. The trim for one of these cars, well…

There were also some very nice cars being sold. This Buick Riviera was stunning. I love the lines on these cars. I don't think anything looks tougher than a dark colored Riv.

The owner wanted $39,500 for this car, which seemed a little high, but you couldn't restore a car for this price.

The other side of the spectrum was this '62 Ford Falcon. There's a soft spot in my heart for these cars, especially since they were the platform the Mustang was built from. I've always wanted to build a plain jane Falcon with all the go fast goodies available for a Mustang.

At $6900 bucks, this car could have been a fun car to tool around town in, but my friend Bill thought I was nuts. "They're slow, handle badly, and don't stop real well, other than that, they're not bad!"

I think Bill was right, we've gotten so used to modern cars with good handling, reliability, and good air conditioning, that if we tried to drive one of these old cars on a regular basis, we'd be "roughing it!"
I had a great time at Carlisle, and managed not to come home with a car. It was nice to see the collector car market still strong, but not out of control, despite what has been selling at auctions like Barrett Jackson. Desireable cars could still be bought for reasonable money, and Carlisle had a nice selection. The trip out to Pennsyvania was just what I needed to kick off Spring!
Previous Restoration Day
Next Restoration Day
Home page