NART Spyder and 1512F1
5/7/07
NART Spyder and 1512F1
I was pulled off the GTC/4 to work on a very special car. It was a 275NART Spyder. I believe only 10 of these cars were specially made for Luigi Chinetti by the Ferrari factory for sale in the U.S. This car was the only one out of the 10 to have a race history. François said that this car was even driven back from Florida after the race only to have the driver almost arrested! I'd love to hear the rest of that story!

Our job was to freshen up the car for a show in Italy. François wanted the re-plate the coolant tubes, install the correct hoses, and clean whatever was visible. To the casual observer, this car was very nice, but when showing at a prestigious show, we had to look at the engine with a more discerning eye.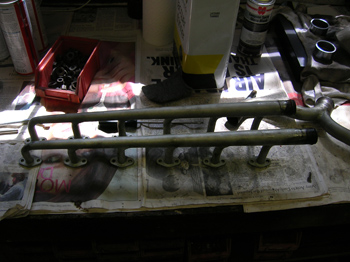 The coolant pipes were removed, cleaned up, and sent to the platers.

On the other side of the shop, the Formula One car was coming along nicely. In three very long days, François had a lot of the car back together. The transmission was ready to be installed, and the ignition was getting wired. Although the car will not be fired up for this show, she will be fired up in the near future, so everything he did was not just for show, but will be for go!
Previous Restoration Day
Next Restoration Day
Home page