The Grille is Done!!!
6/7/07
The Grille is Done!!!
There was still a bunch of little things that needed to be done before the grille could be mounted. Here I had to make some clearance for some of the screw holes in the aluminum part of the grille.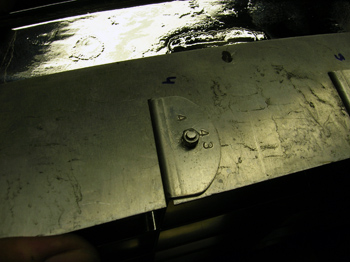 I also ground down all the screws flush with the nuts so there wouldn't be any clearance issues when sliding the grille into the car.

Before I mounted the grille I decided this was the best time to thoroughly wash, wax, and polish the car. With the front bumper off of the car so I could install the grille, it made for easier cleaning of the front of the car. The interior was also cleaned and moisturized.

I jacked the car up so I could wipe down some of the undercarriage. It was covered in mud splatter from my dirt road when I drove it in the rain!

By late in the evening, I finally had the grille installed! My daughter came outside to lend me a hand for the final wipe down, and volunteered to style the new grille in the 330 America. So June 7, 2007 can mark the official completion date of my car, nearly 7 years, 10 months to the day I began this odyssey. Wow.
Previous Restoration Day
Next Restoration Day
Home page