The Road to Scarsdale
6/11/07
The Road to Scarsdale
With the first public showing of my car, I lost sleep over having some catastrophic failure happening to the car that would prevent me from driving the 90 plus minutes south to the Show in Scarsdale. The self fulfilling prophecy almost happened when I started the 330 America at 7 am, the morning of the Show. I noticed the car seemed to be down on power when I first pulled out of my driveway, and I first thought it was because the engine was cold. Instead of jumping right on the Parkway to Scarsdale, I decided to do a short loop around my house to clear things out, then the back firing began. I pulled over to see if there was a carburetion issue, but the carbs weren't leaking, so my suspicions pointed towards the ignition system. Limping home, the backfiring got worse, and smoke began to come out of the exhaust. As I pulled into my driveway, I cut off the car and found the mufflers under the left side of the car glowing red hot! I grabbed my fire extinguisher, and waited for everything to cool off hoping the interior wouldn't catch fire. (It's a good thing I insulated the floors years ago!)
After everything cooled down, I hooked up my timing light to the coil wires, and found no presence of spark on the left bank of the ignition system. Ferrari V-12s have a dual distributor/coil set up with each running one side of the engine. The timing of the engine is like having two straight 6 engines, so when one side fails, there's still enough ignition from the other side to keep the engine running even though there will be half the power. As I was limping home, raw fuel was getting pumped through the left side of the engine without any spark, filling the mufflers with unburned fuel. As things got hot, the gas must have ignited, and began burning inside the mufflers. It's a good thing I stopped when I did!
It then began to rain.
I had to decide how and if I could fix my problem, and if I could still make it to the show. I was getting voltage to the coil, and the points were probably fine, so I needed another coil. I found the one in my Mustang would fit, and had the same post connections for the Ferrari, so I snatched it out of one horse and installed it in the prancing horse. The car fired right up, and was now firing on all cylinders. An hour late, and in a steady rain, I decided I still could make the Show. It would be a challenge to prove my determination, so I headed south.

I arrived at the show an found my parking space, but noticed the car was missing again for the last few miles to the event, I decided that as long as I made it to the show, I would find a way home. I was parked and was going to enjoy my day. I met a bunch of friends and made new ones. It's always great to put faces to names of people I've been in contact via e-mail, and the weather even cleared up for a very nice show.
I spent a half an hour wiping down all the road scum that accumulated on the car from the rain, but she cleaned up nicely, and I was pleasantly surprised to win "1st Place" in the Ferrari Class. It was a nice result after all the years of hard work, and the struggle to get the car to the show that morning.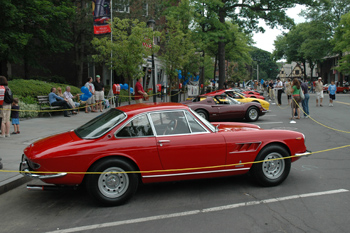 My car was in good company with this nice GTC and Dino on one side…

…and a 330 GT 2+2 on the other side that belongs to Peter P, a regular to my website. Peter's a new owner, and is enjoying the ownership of the car. The two race cars further down were a Testarossa and a Boxer. Although both Ferraris, two very different race cars.

The organizers managed to invite a nice variety of cars to this show, and there were cars that spanned almost 100 years of automobiles. There was something for everyone to enjoy and the weather stayed overcast all day which made for viewing these cars very comfortable.
At about 4pm it was time to pack up and head home. I was secretly worried about my car leaving the show under her own power. I think there is nothing worse than being at a car show with other Marques to have a Ferrari broken down, especially after winning 1s in class!! I was relieved when the 330 America started right up, and idled. As I maneuvered out of my space, the exhaust let out one back fire, but I slipped the clutch and high tailed it out of there. I didn't care if I broke down five blocks outside of the venue, I was not going to do it in front of all those people! Little did I know that was about to happen!
I made it a few miles outside of Scarsdale, and the car started back firing again. It didn't look good, and did not want to risk heating my exhaust up to dangerous temperatures again, so I pulled over at the closest exit which was White Plaines NY. It would not have been my first choice of towns to pull off in a Ferrari, but it could have been a lot worse.

Luckily, right before I left the show, a fellow Ferrari owner that lived in Westchester County gave me his phone number in case I had trouble getting home. Jay was on his way home in his Testarossa, and circled back to meet me. We looked at the car together, and determined the car was again not firing on her left bank. I decided it was time to quit and call a tow. Jay was nice enough to sit with me for the couple of hours waiting for a tow, but once I got the car on the flatbed, I knew I was homeward bound.
Previous Restoration Day
Next Restoration Day
Home page