Sport Auto 330 Engine
6/19/07
Sport Auto 330 Engine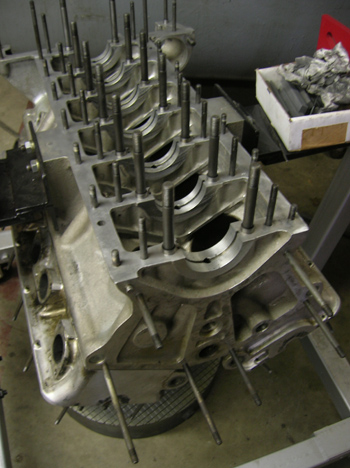 Bill Pollard put me to work on a 330GT 2+2 engine that is in for a rebuild. The crankshaft will have to be fitted to the main bearing saddles after the block is align honed. V-12 engines loose their alignment over time and mileage, and good even tolerances in this area where the crank sits is crucial for proper oil pressure and long engine life.

My job today was to make sure each main bearing cap fit perfectly in its marked place. We didn't want any binding or pinching of the bearing caps, and by the time I was done, each cap slid easily in its place, and came out with a slight tug. I also dressed all the gasket surfaces clean and flat with some honing stones to help prevent future leaks.

Continuing on the prep for the engine assembly of this 330 engine, I began masking the valve covers to ready them for primer and black wrinkle paint. There was a lot of tedious masking and trimming of tape which I won't bore you with the details!
Previous Restoration Day
Next Restoration Day
Home page