ERA Replicas
6/24/07
ERA Replicas
We worked on Michael Greenspan's 330 America at a shop in New Britain, Connecticut called ERA Replicas. They are well known for making fiberglass replicas of the Shelby Cobra and Ford GT-40s from the 60s. Michael owns this 289 FIA Cobra that we used for transportation to the shop.

ERA agreed to make room for Michael in their GT-40 shop to restore his floopans. The skill to replace the Ferrari floorpans was in abundance in a shop that fabricates everything for these streetable race cars.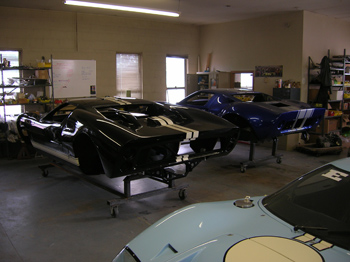 During my breaks, I would inspect ERA's inventory. Here we see a Mk II and Mk I car sitting left to right on rolling stands. ERA has gone through great lengths to copy these cars as closely to their original shape, as well as improve them to make a fantastic street car.

The fit and finish on these cars is evident from the quality only a hand made car can have. To call these cars "Kit Cars" would be an insult!

It's pretty obvious, but the guys who own and work at ERA are all gear heads, and hiding among all the customer cars was the occasional project, like this E-type. Michael's 330 America was a welcome addition over the winter when they did the floorpans.

Along with the replicas, there were a few original cars. This GT-40 J-Car going through a complete restoration shows how light weight aluminum honeycomb panels were used in its construction.

Repairs and patches can be made with sheets of this honeycomb stuff still available today!
I want to thank all the guys are ERA for letting me work in their shop for a couple of days, and for showing me their product up close. It only took a day or two, however, for my arms to stop itching from all the fiberglass!
Previous Restoration Day
Next Restoration Day
Home page