Mustang Exhaust, and 328s
7/30/07
Mustang Exhaust, and 328s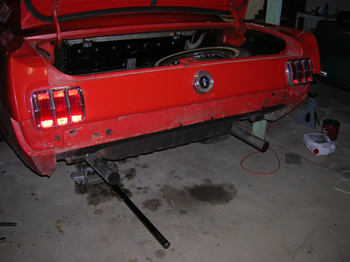 I've been using my Mustang as a daily driver these last several weeks, and François asked me if I had changed the exhaust on my car when I rebuilt the motor. When I told him I changed to a dual exhaust and asked him why he was asking, he replied, "…because eets crook!" I explained the crooked rear pipes were only temporary until I found time to fix it, but now I was shamed into doing something about it!

Mustang GTs from my era car had an option to exit their exhaust out of the rear valance, and I've always liked the look of it. Instead of buying a new panel, I decided it was easier, and less wasteful, to simply buy the trim rings and cut holes in my existing rear panel, that way I wouldn't even have to paint the panel when I put it back on the car. The stock trumpets wouldn't work with my thicker exhaust pipe diameter, so I've got another idea, but you'll have to wait while they arrive in mail!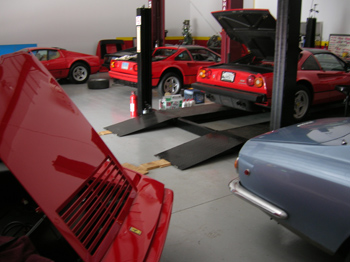 I went to work at Sport Auto today met by a sea of red Ferraris! The 365 I've been working on has been pushed aside to complete some work that was more pressing. I was put on a 308 Quattrovalve that needed some exhaust work, clutch adjustment, and an oil change.

A couple weeks ago I mentioned a 328 that was brought in for a mysterious miss. Bill has narrowed down the culprits, but there seemed to be several factors involved in the malady. Wrong wires, bad sensors, and dirty connectors were all at play at making this car run funny. Let's hope Bill gets to the bottom of this soon.
Previous Restoration Day
Next Restoration Day
Home page