LA to Paso Robles
8/14/07
LA to Paso Robles
I decided to fly into LAX this year to avoid changing three planes to Monterey! Flying commercial aviation has become so crowded that the less time I spend at any airport is a good thing! Eliminating the LA to Monterey leg of my flight also gave me an excuse to visit a friend of mine in Los Angeles. It was fun to have dinner with my friend Pete and talk about Television, something I don't do very much since I changed careers!

While I was in Los Angeles, I stopped by the Peterson Automotive Museum. It's been a destination I've missed for several years, and I finally had time to see its collection.

There were several full size displays showcasing the cars in their period settings that were very tastefully done.

The collection of cars spanned over 100 years in automotive history, and some very significant cars were on display.

My only complaint was the lighting was very dim, and for a car guy interested in examining all the cars in detail, it was hard to see in the low level lighting. For a museum with flat art, spot lighting works well, but for large three dimensional pieces, a brighter diffused lighting would have worked better for my taste.

The neatest thing in the Ferrari section was a 9 minute film called "C'etait un Rendez-vous" directed by Claude Lelouch in 1967. It's shot completely from the front of a sports car and driven at a high rate of speed through the streets of Paris. There was a total lack of regard for the speed limits, and perhaps the public, but because the time was so early in the morning, the danger of hurting someone was minimized. The car was rumored to be the a 275GTB (the director's own car) at the hands of a anonymous F1 driver. The legend was when the film was first publicly shown, the director was arrested by the French police! What a great piece of Automotive folklore.
After a night in LA, I drove my rental car north to Paso Robles, a town about four hours north on highway 101. The choice of town to spend the night was made by the location of a party I was told about between Paso Robles and Cambria. Checking into the Paso Robles Inn, I was pleasantly surprised at the wealth of history the old inn had with the town. The town was known for it's mineral springs, and later, a train stop for travelers wishing to stay after a long journey between LA and San Francisco.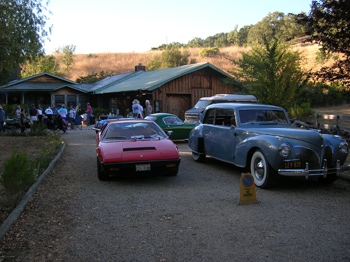 Chuck, a 330 GTC owner, clued me into a party that is held near Paso Robles that he was going to attend during his trek north from Los Angeles. It's a BYOBeef party where John and Lynn Wilburn hold a party at their house cooking whatever you bring to the party. I somehow beat Chuck to the ranch and felt like I was crashing the party when I pulled up the driveway. I knew no one there, but walked up to the grill with a 6-pack and bag of groceries and said, "I hear this is a party for car guys!"
Turns out John worked for Steve Tillack in the 80s as a mechanic, but left after 12 years. He comes from a family of Morgan and Bugatti enthusiasts, and owns examples of both marques. Finally, I found someone who could answer the questions I've accumulated over the years about Bugattis! Rarely does one find a person who actually owns one of these French cars, and works on them himself! Needless to say we had a lot to talk about between Ferraris and Bugattis!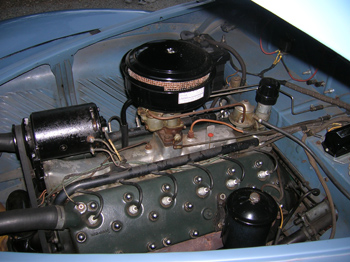 The guests that rolled in through the evening drove some interesting cars as well, from a Lotus, to this V-12 Lincoln Continental. I learned all the differences between it and a Lincoln Zephyr, a close cousin with a less exotic power plant. The owner was local to John, and was another owner that worked on his cars. It was nice to meet so many "hands on" car enthusiasts, and we all talked well into the night. I had a great time, and want to thank John and Lynn for hosting such a great party, and allowing a party crasher like me to join them!
Previous Restoration Day
Next Restoration Day
Home page