Concorso and Quail
8/17/07
Concorso and Quail

I arrived at Concorso and made my way over to the Vintage Ferrari section. There were several nice cars waiting to be judged, but as I looked at several Vintage Ferraris, I found myself walking off the lawn. Where were the rest of the old Ferraris?! I was told there were more Vintage Ferraris in a Non-judged section on the next green, but I very disappointed to see only another dozen cars sitting in a corner next to hundreds of newer Ferraris.
Although I've only been attending Concorso for eight years, I've watched the slow decline of Vintage Ferrari participation to an all time low this year. In proportion to Ferraris built after 1972, the Vintage cars probably represented less than 1 percent!

The lack of participation was not seen in the other Marques. There were plenty of Lamborghinis, Alfas, and Maseratis in various ages, and a good representation of non-Italian makes parked in another section. It seems that the average Vintage Ferrari owner is disappearing from the Concorso show field.

It seems replacing the older cars is a younger crowd more concerned with glamour and glitz represented succinctly with the Lamborghini of Orange County Girls. The Ferrari dealers were guilty of the same type of marketing with their own set of "representatives" selling the horse at full mast!
There were a ton of "new" Ferraris, and a great place for owners of cars less than 20 years old to gather. I only wish the Vintage crowd wasn't disappearing before our very eyes! Just as I was about to loose all hope, my phone rang. It was my friends Rad and Dave calling from Quail Lodge. "We have a spare tick…"I'LL BE RIGHT OVER!" I yelled into my phone. With an opportunity like that, I was not going to wait to be asked twice!

The show at Quail Lodge in Carmel Valley is a very different event than Concorso. The organizers limit the amount of ticket sales, so never does one feel there are too many people walking about. There were several tents set up serving excellent food ranging from tri-tip roasts to sautéed scallops. As I said before, because of the limit on ticket sales, the lines are manageable, there is almost always a place to sit, and there is an endless supply of cloth napkins and silverware.

The cars are spectacular, and are also limited by the organizers. A wide variety of cars were accepted to show from elegant touring cars from the pre war era to race cars from recent past.

Special collections were also on display including a set of cars campaigned by Briggs Cunningham.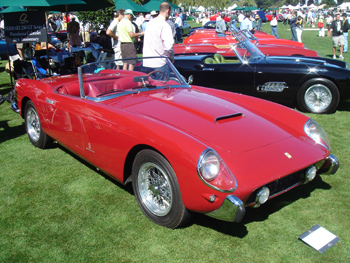 Photo by Tom Wilson
The highlight of Quail for a Ferrari fan was the collection of 18 (?) Ferrari Pininfarina Cabriolet Series I cars. All of the Ferrari historians present at Quail were pouring over every car inspecting the differing details. I tried my best to stand close to the cars and listen to Hillary Rhab describe the differences between cars.
After Quail, I was invited to dinner with some Bay Area Ferrari owners. Over some great Thai food we talked about, what else, Ferraris. The buzz was about the new Classiche (CLAS-i-Kay) Department at the Ferrari Factory in Maranello. We all agreed that we disagreed with some of their ideas, but really had no say over what the Factory will do with the power of the new department. I also met Paul Schwartz, a fellow Ferrari webmaster running the Daytona Registry. I corresponded with Paul several times over the years, but was not expecting to meet face to face. It was nice to share our little secret about the immense amount of time we respectively spend on our websites for the good of Vintage Ferrari ownership.
I want to thank the Bay Area Vintage Ferrari guys for inviting me to dinner, it's always great to break bread with you guys!
Previous Restoration Day
Next Restoration Day
Home page