Laguna Seca and GTE Party
8/18/07
Laguna Seca and GTE Party
Saturday is often the day everyone heads to Laguna Seca to catch some of the Historic Races. Where else can you get a line of Pre-war Bentleys lined up and ready to go?

Again, I got to study some more Bugattis.

I've probably taken pictures of this one before, but I'm no less fascinated.

The straight 8 cylinder engine looks more like modern piece of sculpture than a power plant.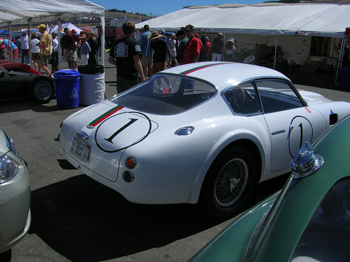 There was a very nice Zagato bodied Aston Martin. I felt I had seen this shape before…

until I saw a Ferrari 250 SWB parked two spaces down. You can really see the similarities, and subtle differences. Pretty neat.

I also love looking at design following function when it comes to race cars. This Devin that was parked in the paddock caught my eye.

The engine was set so far back that it was interfering with the driver's compartment, so the engine was slightly offset to make room.

The Ferrari buzz of the weekend was the Sale of the Steve McQueen Lusso for 2.1 Million at a Monterey Auction, and the Ferrari Classiche (Class-i-Kay) tent at Laguna Seca.

On display in the tent was a Vintage Ferrari to show how the factory finds all the associated internal numbers for Classiche Certification. Supposedly, numbers on engine, gearbox, chassis, and other mechanical members must match Ferrari records as it left the factory for them to offer their certification.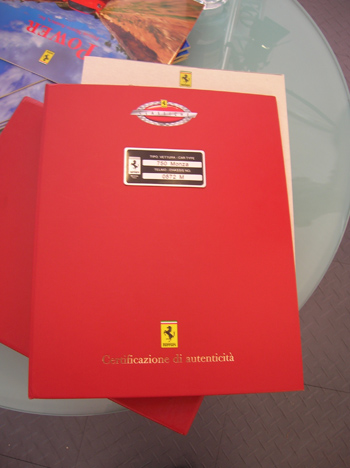 The Certification paperwork for this Monza was also on display.

It reproduces the photos submitted by the owner for the certification process, along with some of the factory documentation. Price? About $2000 USD, or more, depending the amount of work needed by the factory to certify your car!!!

What I found interesting was the disclaimer on the first page of the certification paperwork. I'm no lawyer, but this seems to absolve Ferrari from any dispute over this certificate. I don't know about you, but I've spent a lot less money on a loose-leaf binder with pretty paper.

Another interesting display in the Ferrari tent was a vendor demonstrating a non evasive spectrum analyzer used to determine the composition and authenticity of original Ferrari parts. This test should be able to prove in an instant whether a particular engine block was cast during the vintage period, or recently with a modern alloy formula. This test seemed to raise more questions answer what Ferrari was planning for the future of the Classiche Department.
After a day at the track, I went to Carmel by the Sea to attend the GTE Registry party. This year's party was a little sad, as it was more of a memorial dedicated to the passing of its founder Len Miller. Over 20 years ago, Len decided to start the 250GTE Registry for 2+2 owners that found little respect among other Ferrari owners. He started a quarterly newsletter, and began collecting information on all the 250GTE bodied cars. I met Len about 8 years ago at one of my first visits to Monterey as a Ferrari owner. Every year he hosted a party for members of the GTE registry, and I always felt welcome. He was always supportive of my website and was happy to see me using technology to spread the word about our cars. A year ago, I joined Len for dinner with about 15 close friends and family after the party, and watched Len do what he loved best, share a great meal with good friends. Two months later, I received the sad news that Len had passed.


Photo by Mark Valsi
I was glad the GTE gathering was going to continue in Monterey, and we had a chance to meet this weekend to remember Len and share in our loss. I was also surprised and honored to be given an award named "The Len Miller Heritage Award: From the Barn to the Highway" presented to me by Tom Meadows and Len's daughter-in-law Jane Miller! I had no idea this was going to happen, and managed to say a few words about Len and how bittersweet this award was to me.


Photo Tom Meadows
Tom Meadows took this picture many years ago when he owned this 250 GTE. He was going through some hard times, but refused to sell his GTE to help his situation. Friends of his offered to store his Ferrari on their farm until he could get back on his feet. Things eventually got better for Tom, and it was time to retrieve his GTE from her long storage, but he found not only was he still a Ferrari owner, but also now a landlord to a chicken! When Tom joined the GTE Registry, he sent Len a copy of this picture, and he hung it with great pride in his office. Jane has only been the second person besides Len to receive a copy of this coveted picture, and now I am honored to be the third. It truly embodies the ups and downs we see in life, and the potential we can achieve from something we pull out of a barn!
Previous Restoration Day
Next Restoration Day
Home page