Laguna and Pebble Beach
8/19/07
Laguna and Pebble Beach
This year I decided to try something different with my accommodations in Monterey. A standing invitation has been offered to spend the weekend at the race track in a camper. A fellow Ferrari owner and BMW track rat, brings his race trailer to Laguna from Northern California and shares his facility with a bunch of guys ready to take in the Monterey Weekend without being gouged $300 per night for what would normally be a $100 motel.
Although it would seem like "roughing it," there were some pleasant surprises staying at the track. Mornings were met with fresh coffee, a full service kitchen, and no stress with parking and walking to the paddock. A short walk down the hill, and we were right where we wanted to be, with our cars parked right with the camper. My only regret was I couldn't spend more time in the evenings with Rad and the guys by a campfire enjoying great wine and barbecue! Thanks guys, it was a ton of fun!

On Sunday, the track is less crowded, and the schedule is more laid back. There was tribute to the Toyota 2000GT, where the company invited, and helped ship, any 2000GT to Northern California for the reunion. My friend Tom recently bought a 20K mile, unrestored example of this great sports car, and had it among all the other GTs.

These cars were very sophisticated with 2 liter six and four wheel independent suspension. A highlight of the weekend was not only a ride in this well balanced car, but Tom even let me drive it over Laurels Grade from Carmel! What a great drive.

Tom and I headed over to Pebble Beach in the afternoon to catch the award presentation. We found getting there late was just as good as getting to Pebble Beach at 6am. The crowds had died down, and the stress of showing the car for the show had subsided for the owners and restorers.

As much as I've been missing Pebble Beach in the last couple of years, it's still one of the only places to see such perfect cars being shown in such a great location.

You never know what will be on display on the green facing the Pacific Ocean, but the all the views were great.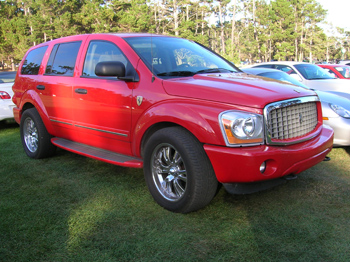 We spotted this car at the Gooding Auction parking lot. Although I've seen this truck before in magazines, this was the first time I got to see it in person. The owner created a custom Dodge Durango with a Ferrari Grille!

This "Ferrango" was not some cheap modification with some simple stickers and fake grille.

Having made my grille from scratch, I know a little about how much craftsmanship was needed to make this grille for a Durango. I tip my hat to the fabricator of this grille!
Sunday at Pebble Beach usually marks the end of almost a week of car events on the Monterey Peninsula. I was headed north to visit some relatives in Sunnyvale. Tom, the 2000GT owner, was headed to San Carlos, so I offered to shadow him for his first long distance drive in his "new" car. The two hour drive north came and went without incident and we went our separate ways off the 101. Whew, what a weekend!
Previous Restoration Day
Next Restoration Day
Home page