2007 Ferrari Club of America National Meet
8/30/07
2007 Ferrari Club of America National Meet
After a couple of days of cleaning it was time for me to take the 330 America to Corning, NY to the Ferrari Club of America National Meet. My friend Yale was driving his Series I 330 up from New York City, and wanted to meet for lunch before reaching Corning, but I declined. I told him all I wanted to do was get my car safely to Corning the day before the Concours, especially after what happened when I took my car to her last show. Back in June, I had a problem with my coil on the morning of the Scarsdale show and nearly missed the show fixing the problem.
Packed and ready for the four hour drive I started up the Ferrari, and realized my self fulfilling prophecy as I watched the front carburetor overflowing its fuel bowl! I stared at it with disbelief trying to decide what I was going to do to get this car to the FCA show. Knocking the carburetor with a wooden dowel didn't unstick the float needle, so the only choice was take the air cleaner off, remove the fuel rail, and pull the top of the offending carburetor off to unstick the float. I went back into my house to change into some work clothes.
After the thirty minute procedure, I buttoned everything up, and fired up the engine. The front carb was now dry as a bone, but now the back carb was starting to drip! What the #$%*! At this point, I was convinced this car hated her role in public life, and was trying to tell me something, but I decided to throw caution into the wind and drive her anyway.
The problem with stuck floats in these cars is a common. Trash in the fuel line, gasoline residue, and lack of driving all play a role in these carbs. Since my rear carburetor was working just minutes before, I had reasonable confidence that it would clear itself out after some driving. The vibration and fuel flow would probably exercise the float enough to get the needle to seat, and I was not about to $%&# with these carbs all morning. As I got to the end of my road, I could feel the carburetor clearing itself out, and the engine ran flawlessly for the rest of the trip.
It was hot day driving out to central New York. I live directly east of Corning, and the drive was a mix of state roads and interstate driving. With the average temperatures in the 90s, it was definitely hotter driving on the black tarmac, but my oil and water temperature were pretty steady. It was nice to hear the electric fan kick on whenever I slowed down in traffic, a testament to all the sensors, relays, and switches working. Having touched every part of this car, I know almost every sound that emanates from within, and could picture it all working as I headed down the road.
I arrived in Corning, and kept driving up to Watkins Glen to the famous Seneca Lodge. Back in the day, all the famous racers stayed at this lodge, and the bar is filled with racing memorabilia. Many people have told me stories of rubbing elbows with all the great drivers of the 60s and 70s when race fans and drivers shared the same watering hole. It was fun to see where it all happened although sad to think that those times have passed.

We were parked on Market Street in Corning, and I was in the company of some very nice 2+2s. It was nice to see Mark's red 365GT 2+2 from Maryland. I sent him some seat foil to complete his interior restoration just a few weeks earlier!

At 9 am sharp, I was descended upon by three FCA judges ready to score my car against the standards set by Ferrari Club America. Before they began, the Chief Judge, Sam Smith, asked me if there was anything I wanted to say about my car before they began. I had prepared a short list of things I wanted to show the judges and reasons why I felt they should not affect how my car was judged, but decided not to get into them at my first outing. I did however admit to a few mechanical issues I've been having with my electric fuel pump, and windshield wipers.
I understood the judges had a limited amount of time to look at all the Ferraris on the show field, but I was almost disappointed I didn't get a chance to show how many things DID work because I spent the time over the last 8 years fixing and restoring these parts. I was proud, however, that when I was asked to operate the things they wanted to see, they all worked! The only big hit (4 point deduction) I took was the lack of tools and books I had with my car. With the cost of collecting even reproduction tools at about $8000 dollars, I was in no position to find or buy tools for my car. To me, gaining those four points had nothing to do with my efforts in restoring my car, but how deep my wallet was, so I took the loss!

After my judging, I was able to relax a little bit and see what else was at the show. The collection of vintage cars was a small percentage compared to the new cars, but they were all exceptional examples. I met several owners that are familiar with this website, and it was great to put some faces to names. Jim Walker even drove his yellow 365GT 2+2 all the way from Michigan!

Jon Shirley brought this beautiful 1957 250 Testarossa.

It was also nice to see this 250GTO owned by Chris Cox.

This 166 Barchetta was the oldest car at the show, and was huge contrast to the modern 599s and 430s parked on the other side of the show field.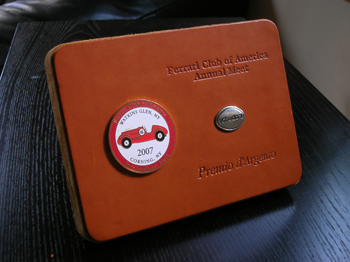 A little before three o'clock Buddy O'Bara handed me a card that said "award winner" and said I was to go to the awards ceremony in a few minutes. I was very surprised that I was winning anything, especially since I lost all those points for lack of tools and books. As I was called up to the podium to accept my award, I didn't hear anything that was said because I couldn't believe I was even up there! It wasn't until after I looked at the award, did I know I won a silver award, third in class for my 330 America. After 8 years of hard satisfying labor on a relatively small budget, I was very proud of my accomplishment. I owe a lot of thanks to everyone who helped me through the years for this award, but most of all I owe François Sicard the biggest thanks of all. Without him, there would be nothing. Thanks François.
Previous Restoration Day
Next Restoration Day
Home page