Carb Issues, and Peter Coltrin Award
9/7/07
Carb Problems and The Peter Coltrin Award
Bill Pollard's shop has a very nice newly purchased 275GTB in for some minor service. It's almost a perfect car, but suffers from lack of use. The car ran very poorly before I pulled all the idle jets and mixture screws for a good cleaning. Today's gasoline leaves a white residue on carburetor parts when it evaporates and wreaks havoc with the tune of the Ferrari engine. After we got the car to idle a little better, we found only three of the accelerator pumps squirting fuel into the throats of the six carbs.

Each non functioning accelerator pump was taken apart, examined, and cleaned, and soon all six pumps were working. This should make this engine run a little better!

Another problem we found was a weeping hose on the clutch master cylinder. In order to reproduce the look of the original reservoir hose, the previous restorer used ill fitting hose and sheathed it with what looked like shrink tubing. Slow leaks of brake fluid dripped on the freshly painted engine compartment, and has ruined the area below the clutch master cylinder.

We'll replace this hose with better sealing hose that will hopefully look right, but more importantly, keep the brake fluid from leaking! We'll also have to remove all the ruined paint and try to figure out how to paint this area without starting all over again!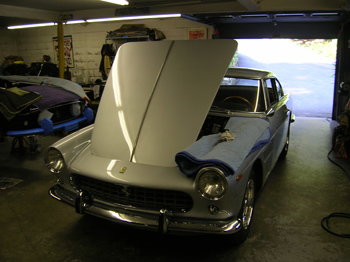 The next day, I stopped by François' shop to work his Ferraris. I'm beginning to think Gary Hiniker's GTE doesn't want to go home! After Gary and François got their schedules together, the car was about to be picked up for delivery today when it had a lot of trouble starting. Not wanting to deliver a car with intermittent starting issues, François canceled the pickup.

François found that whenever the car sat for more than a couple of days, the car would be hard to start from lack of fuel. I checked the fuel pumps again, and found they were both working fine, and the accelerator pumps were squirting fuel, but François still suspects the accelerator pumps. He thinks there may be some varnish inside the pumps that are causing them to fail when the car sits for a few days. Unfortunately, it takes a few days of sitting to check his theory. The plan was to pull the air cleaners and park the car for a couple days so we can look down into the carbs when the car is hard to start. Unfortunately, Gary's going to have to wait a little longer!

Sam Hallowell sent me the award I was presented at the Ferrari Club of America National Event Dinner by Parker Hall. Sam Smith, my class judge, said the Peter Coltrin award was "awarded to the owner and car who may not score well enough for a platinum but has demonstrated love for and much involvement with their Ferrari. They came up with the concept several years ago when old hand Wayne Sparling showed up with a nice 275GTB that he had loved and massaged for many years. Wayne got nothing that weekend and Greg and Parker came up with their award."
Thanks to everyone for this award. It's great to know that my love for these old Ferraris and enthusiasm for the Vintage Ferrari Community is still shared by many of us!
Previous Restoration Day
Next Restoration Day
Home page