Valve Adjustment and Head Repair
9/27/07
Valve Adjustment, and Head Repair
It's been a busy week splitting my time between Bill Pollard's and François' shop this week. At Bill's shop I've been working on the 308 QV in for a major service. One of the procedures in a major service is a valve adjustment which required a box of shims, some measuring devices and a little bit of math. It's a little more complicated than adjusting the valve lash on my two cam 330 engine!

These shims fit in buckets that push on the top of the valve stem, and as items wear, the changes are corrected by changing the thickness of these shims. For a do-it-yourself job at home, once you figure out what shims you'll need, you'd have to order them from a local Ferrari parts purveyor.

At François' shop, the head to the 330 with a dropped valve seat returned from the welder. François had begun lapping all the valves to fit their respective seats.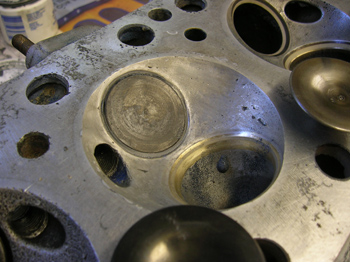 The repair was well done, with barely any evidence of the previous damage.

Here was the head before the repair. I think this cylinder will do a much better job with compression after this repair.
After the head was reassembled, we spent a day putting it back on the engine, and by 5pm, the engine was fired up and running smoothly. We had to fix a couple minor fuel leaks, but otherwise François managed to save another 330GT 2+2. Let's just hope another valve seat doesn't decide to do the same thing because the next time the owner might not be so lucky!
There has been some discussion on the forum about repairs like this. Many shops would not do a repair like this without insisting the other valve seats be replaced with modern more durable materials. The risk of replacing only one exhaust seat is the other ones are prone to the same failure with perhaps an even more catastrophic failure than this one. The risk to the shop doing only the repair of one valve is its reputation may be compromised when the people think this kind of repair is condoned by said shop. When I asked François why he agreed to repair this engine this way, he really didn't have an answer. Maybe he has a soft spot in his heart for old Ferrari engines, but I just hope this repair doesn't come back and bite us!
Previous Restoration Day
Next Restoration Day
Home page