2007 Tomyang.net East Coast Party
10/27/07
2007 Tomyang.net East Coast Party

photo Rich Faron
The weather decided not to cooperate for the third annual Tomyang.net Fall Party, but I was not going to let a little rain keep me from driving my 330 America down to the party. Tom Wilson flew in the night before from Los Angeles, and was my copilot for the drive down, with my friend Rich following us in his GTI.


Photo Tom Wilson
The rain was pretty bad, and knew I would have to rely on Rain-X for the whole trip as I have yet to sort out my windshield wipers! The coating worked fine until the last 10 minutes of the trip when all the Rain-X had washed away, and the defroster lost its fight with the rising humidity on the inside of the car. The picture Tom took through the windshield is a lot worse that it actually was, but our visibility was certainly impaired!


Photo RF
We arrived unscathed and in good spirits, and began the last minute details to get the party started. At 11 am, I was glad to see Sam's 365GTC/4 pull into the parking lot to prove we DO drive our cars in the rain!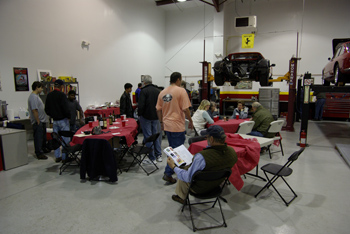 Photo RF
Soon more guests arrived and settled in to look at all cars on lifts and on display at the shop. Here's what we had inside Bill Pollard's shop: 512BBi, 330GT 2+2 Interim, 275GTB alloy 6 carb 2 cam long nose, 308QV, 275GTB short nose, 365GT 2+2, and a F40.


Photo RF
I met all the usual great friends I made from this website, and put some more faces to names that braved the heavy rains to attend our East Coast Gathering. At the height of the party, someone took a head count and found over 40 people talking cars! There was certainly no lack of material, as Bill Pollard answered as many questions as he could about Ferraris from owners, and future owners. At one point, Mike brought a spare 12 plug distributor from his C/4 for Bill to look at, and when they fired up the old Sun Distributor machine, every available body in the shop gravitated towards the whizzing noise of the Ferrari distributor. Great fun.


Photo RF
Outside, despite the rain, four Vintage Ferraris made it to the party. Warren's dark red 330 probably was the furthest traveled from the Pittsburgh area, but Sam's 365GTC/4 and Art's Blue 330 GT 2+2 did well coming all the way from the Boston and Princeton area respectively. Looking at this picture I wondered if there was any "piston envy" from Pete Sweeny's BMW 600 parked all the way at the end!


Photo RF
Bill was not only busy giving demonstrations inside, but also outside trying to find a fouled plug on Art's 330. No one seemed to be bothered by the occasional downpours as we all poked our heads under the hoods, and shrugged off the wet.


Photo RF
Towards the end of the day, the rain finally started to clear, and it was time to take some of our cars out for a drive. All the able Ferraris were fired up, and rides and drives were offered left and right. One speechless partygoer was offered a drive in Warren's 330 for his first time behind the wheel in a Vintage Ferrari. As he strapped himself in, I warned Jeff that he was about to do something that could change him forever!


Photo RF
When I moved my car out of her space, I found a big oil stain (and a little one further back) under the car. Explaining it was only my car marking her spot, I later found one of my carburetors was leaking again. It was remedied with a sharp tap from a rubber mallet, and some more driving.

As the rain cleared, Mitch pulled out his 275GTB from his storage space next door, and began giving rides as well. The growl of Ferraris were definitely heard in the Litchfield Hills as the sun set in Connecticut!


Photo RF
I tried to get a group photo of who was still at the shop when the rain stopped. Luckily, all four Ferraris that drove in were still there, so we lined them up for a picture.


photo RF
From left to right, Tom W, Tom Yang, Kerry, Mike, Marie, Josh, Sam, Jay, John, Neil, Nobby, Warren, Judy, Mitch, Jeff, Art, Peter, Bill Pollard, and Jim. I wish we were able to include more people in the photo, but it didn't stop raining until nearly 4 o'clock!
I want thank everyone who came to the party, and all the door prizes, food, and drink people brought from near and far, but I want to give a special thanks to Bill Pollard at Sport Auto and the guys at the shop for pulling this all together. Sean, Nobby, and Jim did a great job whipping the shop into shape to accept all the partygoers. I can't thank you guys enough for making this party a success, and I know everyone who came felt the same way. I can't wait to see what happens next year!
Previous Restoration Day
Next Restoration Day
Home page