Distributors
11/4/07
Distributors
François' just about done with the 500 Superfast that has been at his shop for a new paint job. There are just a few electrical issues to sort out, and some interior pieces to install, and it should be ready to go home.

The engine compartment was nicely detailed, and matches the level of paint. I think the owner will be pleased.

As one car prepares to leave, another Ferrari takes up residence at François' shop. The new arrival is an early drum brake 250 PF coupe. This car recently exchanged hands with new paint and redyed interior, but needing complete mechanical overhaul including assembly of the engine. You'll be reading more about the progress on this car in the upcoming months.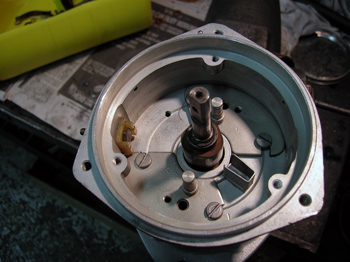 One of the first projects I was put on with the PF Coupe was re-assembling the distributors. The first step was installing the ground post and insulating plastic insulating block.

After the special eccentric adjusting screw was dropped in place the breaker plate was installed.

The new rubbing block from the points set was reamed to check that the pivot will fit well on the post.

Grease in all the right places was applied to make sure everything works well and lasts a long time.

This picture skips ahead a couple of steps, but still shows what happened next. There are two fiber washers that insulate the pivoting rubbing block of the points, They're installed with "E" clips before the top frame of the distributor housing was installed. I needed to check for free play on the rubbing block as sometimes the new fiber washers are thicker than the old ones. The right combination of old and new washers gave me just the right amount of clearance for the points to operate freely. When I installed the top frame, François told me to note which position to secure the frame that would offer the best access to the points adjustment since there are three positions I could have screwed it down.
Previous Restoration Day
Next Restoration Day
Home page