Throttle Linkage, and PF Brakes
11/6/07
Throttle Linkage, and PF Brakes
One thing that has always annoyed me about my engine was the throttle shaft and linkages. I never had these pieces coated correctly, and left them in natural steel. Not having the correct coating, the steel would rust pretty quickly, and it would be the first thing I would see when I opened the hood.

François was sending a batch of parts out to be coated, so I included my parts in the box. It'll be cheaper to include my parts with a larger batch than to have just my couple of pieces done.

Work continued on the PF Coupe with the focus on the brake system. After the master cylinder was removed for resleeving, the drums were disassembled and inspected.

Some restoration was completed by a previous owner, but a complete disassembly was needed to make sure everything was working correctly. Even though the front wheel cylinders were resleeved in stainless steel, the shoe pivots were pretty rusty, so if we put everything together without checking, the brakes wouldn't have worked very well.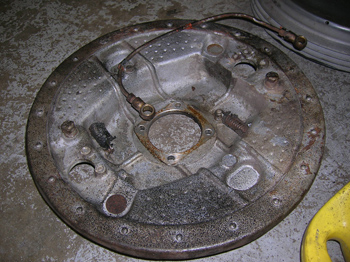 This was the first time I got to work closely on Ferrari drum brakes. They're a little more intricate than the stamp steel parts found on an American drum brake. The cast aluminum pieces are pretty neat with dimples cast into the backing plates for cooling holes. Although this PF Coupe didn't require cooling holes, the same backing plates were used on a Tour DuFrance so the dimples could be drilled out.
Previous Restoration Day
Next Restoration Day
Home page