The Northeast Classic Car Museum
11/17/07
Northeast Classic Car Museum
I took a ride with my friend Mike Meehan to visit an Auto Museum in Norwich, NY. For a small town in practically the middle of nowhere, The Northeast Classic Car Museum has an impressive collection of Pre-war automobiles, mostly owned by one man, George Staley. Since it's opening, this not-for-profit organization has added more cars to its collection through purchases, and loans from other collectors.

Mr. Staley has a love for Franklin automobiles, and proudly displayed his collection of air cooled Franklins in restored and works-in-progress!

There were many beautifully restored cars, but as always, I was drawn to the ones that were being worked on! It was great to see how the steel bodies were married with the wooden frames, a common construction technique of cars from this era.

Although indirectly related to automobiles, the highlight of my visit was a display of vintage aircraft engines! How many chances do you get to see a flat 12 air cooled Franklin aircraft engine?!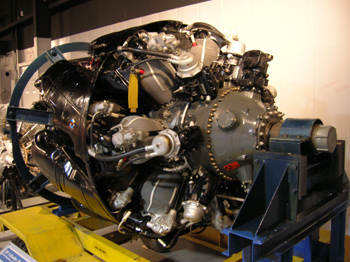 How about a W.W.II 28 cylinder Bomber engine? Eight of these monsters were installed in the infamous "Spruce Goose," designed and flown for a few minutes by Howard Hughes.

The complexity of these engines almost make Ferraris look like lawnmower engines! It amazed me that all this technology was available in the 30s and 40s, and barely made it into the automotive design for years to come. I know many of these designers and engineers stayed in modern aviation and developed the space race, but why did it take so long for some of this engineering end up in automobiles? I was in awe.

I studied every aviation display with great interest. I finally learned how a radial engine works! Having never seen the inside of one, I could never grasp how cylinders mounted in line could transmit power to a crankshaft mounted in the center, but with these cut-away engines, it all became clear.

All of the cylinders mounted in a row pivot around one crank throw, so as each cylinder fired, it turned one throw. The more rows of cylinders, the more crank throws. Like the bomber engine had 7 cylinders per row, with 4 rows (4 crank throws) equaling a 28 cylinder engine. Ingenious!

Another beautiful piece of machinery was this 3400 horsepower B-29 engine. The more I looked at this thing, the more I was impressed. I mean they designed this thing with barely more than addition, subtraction, and a slide ruler! There were no CAD machines, or even calculators like we know today. These guys were true pioneers!

Here's some more information on this particular engine.

After spending a lot of time looking at these aircraft engines, Mike and I decided one of these cut-away engines was a must have for a true gear head. Forget the poseur shop stools, or engine coffee tables, fork lifting one of these babies into your house would be what I would want!

I even found a 3350 on e-bay, but a $12,000 dollars, it would be a shame to cut it up for a display! What I need to find is a single row radial engine that is complete but not rebuildable for my collection. You know my wife will think I'm nuts!
Previous Restoration Day
Next Restoration Day
Home page